How to Balance School, Work and Life
When earning an online degree, balancing school, work, and life all at the same time can seem like a daunting task. But with the right tools and resources, creating a healthy balance doesn't have to be difficult! Check out these useful tips on managing school, work, and life as an online student.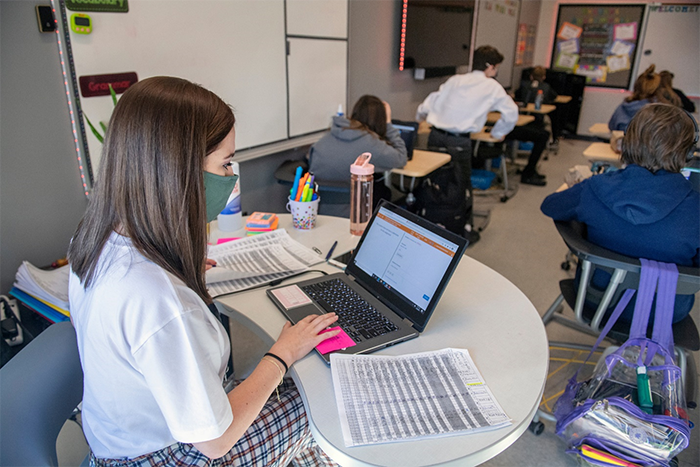 ---
---
Use a planner
Whether you prefer a physical planner, virtual task manager, or the calendar feature in Microsoft Outlook, find a system of organizing your time that works for you. Planning each day will help you stay on top of deadlines, reach your goals, and work efficiently with the time that you have.
Take care of your physical and mental health
Your physical and mental health affects your wellbeing and energy levels. A few methods that can help you stay mentally and physically alert include obtaining 7-9 hours of sleep each night, drinking water, and staying active through movement you enjoy, such as going for a walk or swimming. Also check to see if your university or local community offers counseling services, and reach out with mental health questions or concerns. Taking care of yourself matters, from the workplace and the online classroom to your everyday life.
Schedule breaks
Taking occasional breaks from work and school will help you relax and unwind, giving you the motivation that you need to keep going. When planning to devote time to required activities, also plan to take intentional breaks from work, school, and technology so that you can rest and recharge. Mirroring your time spent working with time resting can help you create a healthy balance.
Build a good support system
Balancing work, school, and life can be overwhelming, but it doesn't have to be! By communicating with your employer, professors, classmates, friends, and family, you can create a community of people ready to support and encourage you along the way.
Ask for help
Mississippi State wants you to succeed, and we have lots of resources here to help you do just that! With programs like online tutoring, counseling services, tech support, disability support services, and more, your journey becomes easier, and your goals become reachable.
Remember why you started
Earning an online degree while creating a healthy work, life, school balance can seem intimidating, but remembering why you chose this path will give you the inspiration you need to keep going. Consider writing down your personal goals and hanging them in a visible place to remind yourself daily why the work you're doing matters.
Whether you choose to pursue an online degree to increase your knowledge, earn a promotion, or create more opportunities for your life or career, a degree from Mississippi State Online will take you to places you never thought you could reach! Reminding yourself of your goals will inspire you to keep moving forward.
Mississippi State Online is ready to help achieve your goals and your online degree.
Are you ready to join the Bulldog family? Apply now!