Meet Kennedy Brown, an MS State Online student taking on Disney
Kennedy Brown is an MS State Online student earning a master's degree in industrial engineering while working full-time for Walt Disney World Resort.
---
A degree from Mississippi State can help make dreams come true. In fact, that's the story of Kennedy Brown, an online student pursuing a Master of Science in Industrial and Systems Engineering while employed as an engineer at Disney.
Brown graduated from Mississippi State's main campus industrial engineering program in December 2017. During her undergraduate career, she had the opportunity to earn a few graduate-level credits. Two and a half years later, she decided to pursue a graduate degree in engineering. Mississippi State Online stood out among other schools by offering the program she wanted and accepting her existing credits.
As a Senior Industrial Engineer for the Walt Disney World Resort, Brown can apply what she's learning in her online classes while on the job every day. Engineers on her team function as analytical consultants. They work together to help company executives answer strategic questions and provide recommendations throughout the parks and resorts.
Brown supports EPCOT Park Operations, focusing on improving the guest experience through strategic park planning, improving guest flow, attraction efficiency, and minimizing wait times. She particularly appreciates the customer experience aspect of her role since she gets to tackle guest-oriented questions from an analytical point of view.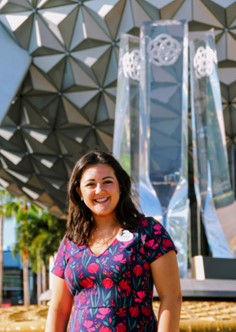 She often finds that the skills she gains in the classroom closely align with the work she's doing with her team. For instance, she is currently enrolled in a Macroergonomics class, which explores how organizations are structured and how they function at a big-picture level. This knowledge of organizational systems has been incredibly useful at work, even more so when she was able to co-lead her department's internship program. Working closely with the interns as a leader and mentor has enabled her to apply the organizational design knowledge and leadership skills that her course teaches.
When asked about a person who impacted her time at MS State Online, Brown talked about her professor Dr. Reuben Burch, who encourages his students to use examples inspired by their own personal interests as examples and test answers. For Brown, this means she frequently discusses quandaries like theme park logistics and teamwork among engineers in her classwork. She loves that her work and classes can be so directly connected.
Of course, handling a full-time job while pursuing a master's degree online isn't easy. Brown frequently has busy days, including working from home or at her office behind the parks, classwork, group projects, and more. All the while, she is investing in her busy personal life, which currently includes planning a wedding with her fiancé.
But Brown still finds time to rest and enjoy the things she loves. She says that since most students in her classes are also online students, she feels supported by an understanding community of professors and classmates.
As for what's next in her career, Brown doesn't typically map out her coming years in advance because she wants to allow herself room to change and grow. What she does know for sure, though, is that s he loves the path she is currently on, both academically and professionally. She is excited about the opportunities that will come after her graduation this upcoming May. With a degree from MS State Online, the possibilities abound.