Founded in 1878 as a land grant institution with a strong military tradition, Mississippi State University has maintained its reputation as one of the nation's top universities for military connected students.
Military Friendly
Mississippi State is recognized as a 2023-2024 top 10 Military Friendly school for its commitment to supporting service members, veterans and their dependents.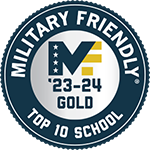 Affordable
Mississippi State Online Education students pay the in-state tuition rate no matter the state of residency.
Students may also qualify for veterans' scholarships to help cover un-met financial needs. Learn more about scholarships for veterans at the university's veterans site scholarship page.
Support
Mississippi State University strives to support military connected students through our many online student support services.
The G. V. "Sonny" Montgomery Center for America's Veterans provides comprehensive support through educational benefits, transitional support and activities to promote learning, well-being and success. To learn more about Sonny and the campus's commitment to veterans, visit the university's veterans site.
The Center for America's Veterans provides counseling for students who are eligible for veteran's educational benefits. The office provides information on education benefits, helps students apply for the benefits they are eligible for, and acts as a liaison with the VA Education Office by reporting students' enrollment to the Regional Processing Office for payment.
Students who wish to receive VA educational assistance for the first time should contact one of the Veteran Benefits Counselors:
Obtain Tuition Assistance Authorization (TA) forms from your base Education Officer.
Submit Tuition Assistance Forms to MSU's Sponsored Student Office as close to the start date of class as possible. (Check the Academic Calendar for class start and end dates).
Email to Penny Benoist at pbenoist@controller.msstate.edu
Or Mail to:
Sponsored Student Programs
Attn: Penny Benoist
P.O. Box 5316
153 Garner Hall
Mississippi State, MS 39762
For questions concerning Federal Tuition Assistance or Degree Plan creations please contact Julie Kirk in the Center for America's Veteran at jek252@msstate.edu or call 662-325-9098.
Due to new policies implemented by each branch of the military regarding Tuition Assistance, you must contact your Education Services Officer for dollar limits, contact hour limits per year, as well as percent covered by Tuition Assistance. Student will be responsible for any late charges accrued; this includes late charges due to Tuition Assistance payment being received after the 30-day grace period.
Mississippi State University started a program in January 2023 that will pay the difference between the remaining course tuition and Federal Tuition Assistance for hours that have been approved for Tuition Assistance (TA). Currently, if enrolled in the Bachelor of Applied Science degree online, active Military Students who are eligible for Federal Tuition Aid can have the remaining hours of their TA-approved hours covered through our TA Gap Funding Program.
Military Students that qualify for this program should apply to Mississippi State at https://apply.msstate.edu/. During the online application process students can select a review for eligibility for this program after submitting the requested paperwork. The student will be contacted by the Center for America's Veterans Office who will review the student's eligibility for the program.
For Military/Veteran's assistance, please visit the Center for America's Veterans or call 662-325-6719 for required documentation and additional information.