STARKVILLE, Miss.—Dr. Susan Seal's "Leadership Skills" course (MGT 8113) earned the Quality Matters (QM) Certification Mark following a rigorous review process.
The QM Certification Mark is the internationally recognized symbol of online and blended course design quality and represents Dr. Seal's ongoing commitment to creating learning environments that provide learners with a clear pathway to success.
The certification is the result of Dr. Seal's dedication to continuous improvement, including the innovative work of Kiley Forsythe, Kenna Vowell, Taylor Yarbrough. The course is now listed on the QM directory of certified courses.
"This is our very first official Quality Matters review, so it is really exciting," said Kiley Forsythe, an Instructional Designer for the Center for Distance Education at Mississippi State University. "This process has helped take an online course that was great to exceptional. I am very proud of our team, and I look forward in working to get more courses QM certified in the future."
The QM Official Review provided independent validation of the quality, learner-focused course design found in MGT 8113. Reviews are conducted by QM-Certified Reviewers and use the Quality Matters Rubric and associated Standards, which are based on research and best practices. A course earns the QM Certification Mark once it meets QM Rubric Standards at the 85% threshold or better and meets all Essential Standards.
About Quality Matters at MSU
Mississippi State University uses the Quality Matters Rubric as a guideline in all course development and revision. The QM Rubric and process fit perfectly into our mission of providing quality online courses to students.
The Center for Distance Education (CDE) is a service unit of the University and extends educational opportunities to individuals through a variety of learning options in non-traditional program formats. CDE provides leadership, coordination, and assistance in implementing distance education programs offered by Mississippi State University. The mission of CDE is to engage people in achieving their lifelong educational goals through dynamic partnerships, targeted programming, innovative technology, and quality customer service.
About Quality Matters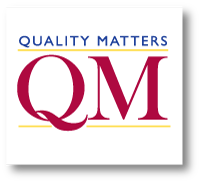 Grounded in research. Driven by best practices. A community that puts learners first. Quality Matters (QM) is the global organization leading quality assurance in online and innovative digital teaching and learning environments. It provides a scalable quality assurance system for online and blended learning used within and across organizations. When you see QM Certification Marks on courses or programs, it means they have met QM Course Design Standards or QM Program Review Criteria in a rigorous review process.