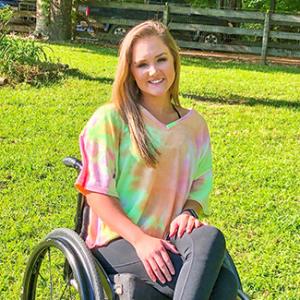 Amber Brinson always dreamed of attending Mississippi State University, but after being in a serious car accident, she was afraid those dreams were over. However, Mississippi State University Online has allowed her to join the Bulldog Family to pursue her degree from home while focusing on her health. 
After graduating high school, Brinson started her higher college journey at Copiah–Lincoln Community College in Wesson, Mississippi. "When I went to Co-Lin, it felt like home. I wanted to have that feeling of home. Then when I began to tour other colleges, Mississippi State felt like where I needed to be. It also felt like home. My family has always been State fans, and I have always said 'Hail State!'," said Brinson. 
Brinson planned to attend MSU from the Starkville campus after completing her associate degree at Copiah-Lincoln Community College, but in August of 2019, she was in a serious car accident. "My friend and I flipped over a bridge. I had a spinal cord injury, and I had to have facial reconstruction surgery. Today, I am paralyzed from the waist down," said Brinson. 
Brinson decided it was best to take a semester off from school to figure out her next steps and focus on her health. "I did not know what I was going to do or how I was going to do it. My mom kept pushing me to find a way to get back in school. My high school counselor is a big part of my life. She came to the hospital to visit me a lot, and she printed off different information on programs and universities I could attend. That is how I found out about the online elementary education program through Mississippi State," said Brinson. 
Before the accident, Brinson had not considered pursuing a career in education. "I thought a teacher was the last thing I wanted to be. Before the wreck, I wanted to be a physical therapist. Now, sadly, physical therapy is pretty much off the table for me. I decided that I would really like to try teaching, and now that I have been taking the classes I realize that I absolutely love it! I didn't think I would, but it is definitely God's way of showing me that he knows me better than I know myself," Brinson said.  
In August of 2020, Amber Brinson was selected as a recipient of the MSU Distance Makes a Difference Scholarship. "I am so thankful for this scholarship. It has definitely been a blessing and one of the light spots in the dark," said Brinson.  
Brinson is currently in a wheelchair and recovering from multiple surgeries. She has weekly physical therapy and travels to Colombia, South America, every three months for stem cell treatments. 
"Online education has just made everything a lot easier for me. This scholarship has really helped my parents and me relax about paying for school. It has helped us out tremendously. I couldn't have gone through this if it wasn't for my family. Throughout my experience I have learned that you can always rely on God and your family for anything and everything," Brinson said.  
Brinson loves her elementary education courses, and she is learning and developing skills that she does not believe she would in a traditional classroom. "Being in online classes has definitely taught me to actually ask more questions. It has really helped me communicate better. I am able to kind of let my guard down, and not be so nervous," Brinson said.  
Regardless of the journey to online education, Brinson has remained strong and positive. "If you really put your mind to it, you can get anything done," Brinson said. She has not let physical challenges stop her from pursuing higher education. Although this is not the path Amber envisioned, she is happy. 
"When one door closes, always know that another door is going to open, and it can be even better than the one before," Brinson said.
Life has thrown Brinson some curveballs, but just like a Bulldog, she has continued to give relentless effort. Congratulations, Amber, on receiving one of the 2020 Distance Makes a Difference Scholarships from Mississippi State University Online. We are so glad that you are a part of the Bulldog Family, and you are a true testament that distance education can truly make a difference in people's lives. 
---