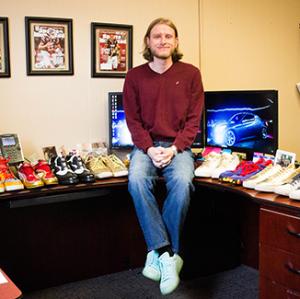 Like his shoe collection, Ben Kaminsky brings a flair to his work as a web developer at Mississippi State University's Center for Distance Education. As part of the support unit for MSU's online programs, Kaminsky's energy and ability to think outside of the box allow him to be creative and strategize new ways to communicate with the University's online students.
"Shoes can say a lot about a person without them ever saying a word. I look for stuff that is different than most people have—patterns or colors, anything that's unique," Kaminsky said.
A visit to the Starkville campus confirmed Kaminsky's decision to attend Mississippi State as an undergraduate. "A random student commented on my shoes while my dad and I were walking on campus. The friendly and open environment of Mississippi State stood out and said a lot about the campus community," Kaminsky said.
Kaminsky earned a bachelor's degree in business information systems with a minor in political science in May 2019.
The transition to web developer was natural since his courses covered everything from coding to marketing as well as finance and general business. Kaminsky wanted to be well-versed and work with technology.  "I wanted to be nimble in the workplace," he said.
"The challenges that we will face in higher education will demand innovation and I want to be a part of rising above those challenges," Kaminsky said. "I'm here to help in any way needed."
Kaminsky's recent student experience gives him added insight when designing websites. "I don't want to break the mold but design websites to be what our students need them to be," he said.
Ben brings a fresh perspective to web development and lives by advice his father gave him. 'At the end of the day, all you can ask of yourself is the best you can give.' He and his family enjoy going to car shows together and have traveled as far as eight hours to a car event in Houston, Texas.
One day, Ben might be found running a record and shoe store to share his love of collecting both with others.
---