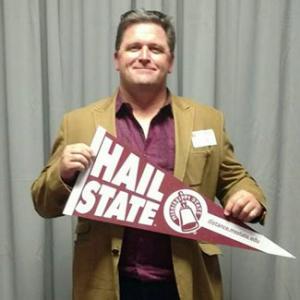 Bret Alexander wanted to complete his education at Mississippi State University, but life's responsibilities kept getting in the way. One day his daughter made him rethink his priorities.
"My daughter got me back on the path to finish my undergrad program when she decided to withdraw from college during her sophomore year," Alexander explained. "I made a deal with her that I would finish if she would.
Their deal in place, Alexander and his daughter returned to school in 2014, completing their bachelor's degrees in 2016, and becoming the first two people in the family to do so.
Alexander said receiving his bachelor's degree taught him he was capable of being a good student. Wasting no time, he began pursuing an online Master of Science degree in Geosciences with a concentration in Applied Meteorology in the fall of 2016.
Returning to school was not a simple undertaking. As a husband and father working full-time with the added responsibility of caring for aging parents, being a student on campus was not an option for him.
"Distance education at Mississippi State has allowed me to reach my educational goals without disrupting my family's lives," Alexander said. "It affords me the flexibility of folding my academic responsibilities into my family, work and community responsibilities." 
Spring semester 2018, Alexander was chosen to receive one of three $1,000  Distance Makes a Difference Scholarships awarded by the MSU Center for Distance Education. "Wow!" was his immediate reaction to being chosen as a scholarship recipient.
"Thank you for this honor!" Alexander continued. "My experience with the online geosciences degree programs at MSU has given me greater confidence while working with colleagues in my field, and being chosen to receive this scholarship is certainly a confidence booster, too! Now, as new opportunities come my way, I will be saying to myself, 'You got this!'"
For more about the online Master of Science in Geosciences with a concentration in Applied Meteorology, visit online.msstate.edu/geosciences/amp/
---