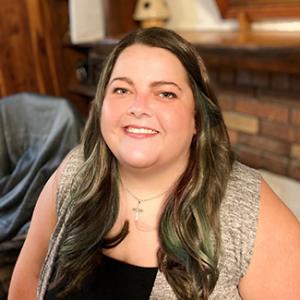 The Mississippi State University Department of Psychology and Center for Distance Education are celebrating the first-ever online Bachelor of Science in Psychology graduate, Candice Tetlow Cox. In the summer of 2020, Cox finished her coursework, and she graduated in August. Her journey to graduation had some bumps and curves in the road, but her passion for psychology and driven attitude allowed her to cross that finish line.
"I didn't start college until four years after high school. When I was around 16, my mom was diagnosed with cancer. I had to work and be her primary caregiver. She passed away when I was 20, and I flipped my life over at 22. I decided to start college," said Cox.
Cox received her associate degree at Copiah Lincoln Community College. "I am so glad I started there because I loved it. I loved the people and the building blocks they gave me. I really wasn't sure where I wanted to go next. I told my advisors that if I don't have an online option, then I am not going to be able to get my degree. I was just getting married and I was co-owner of a business. That is when my advisor at Copiah Lincoln really started digging and found out about the MSU online psychology program. Mississippi State was just this bright beacon when it came down to the wire," said Cox.
As early as 12 years old, Cox remembers wanting to be a psychologist, and her psychology courses confirmed that desire to want to help others through tough situations. "There was one particular class that had a really intense assignment. We had to read a suicide note, and wow, it was so intense. I was ready to throw my hands up and say I can't do this. My professor reassured me that this is what we do as psychologists. We are the ones brave enough to take somebody by their hand and say, 'I will face your pain with you. I love you. I care about you as a human, and we will do this together.' That just reassured me that I was right where I belonged," said Cox.  
Cox has a passion not only for psychology but also a passion for helping others and her community. "I originally planned on opening my own practice one day, but my church just opened a Montessori School in our community of Natchez, Mississippi. One of the biggest hurdles of our community is that we have very few resources for our children with special needs. At a previous school I worked at, I saw so many kids get pushed toward the side and they fell through the cracks because we didn't have the resources to help them. I am looking at starting a master's program so I can deliver behavioral therapy which would be phenomenal for our kids and our community. I also have goals of starting a special needs focused program here at Living Hope Montessori School. I think I am being called to be the resource that these people need," said Cox. 
"I would not have my degree if it wasn't for the way that the program was completely online and designed. I know that you can design something a great way, but if you don't have the hands and feet to really act it out--it's not going to work. The instructors want to get to know you as a person and they're there for you whenever you need help. They all went above and beyond. They were the hands and feet," said Cox.
Cox enjoyed every professor in the psychology program. "They are like a different breed of people. They were very welcoming and wanted me to succeed. That was really the bottom line, and I felt that from all my professors. They say it's the Mississippi State Family, and it really is. Even as an online student, I have never seen any of these people in person. They have really impacted me, and they make a bigger difference than I think they are given credit for," said Cox.
The passion that was so integrated into every aspect of the program is what Cox loved the most. "My professors really put their heart and soul into everything. You could see it in their presentations and hear it in their voices. It felt like a family environment. They were rooting for us. I was not just a number. Each one of my professors put their heart and soul into me, and that made such a difference," said Cox.
One of the most impactful moment's in Cox's coursework was when her drug use and abuse teacher brought in a guest speaker. "The guest speaker struggled with addiction, and his motto was "Do one good thing for another person every day." He challenged us to do it as well. I have thought about his motto so much since that day," said Cox. 
She has had a lot of people in her life that have impacted her and stepped up to encourage her throughout her journey to graduation. "Even though I lost my mom, my biggest fan, at 20 years old, I had some people step up to cheer me on. My husband first and foremost. He really pushed me when I needed a push, but he let me be weak when I needed it. My dad--it was really tough after my mom died because she was my biggest fan. Over the past six years my dad and I have become so close. He always encouraged me to pick myself up, get back on my horse and do this! My mother-in-law has taken me in, and I know she would stand up to a lion for me. Lastly, my mom's best friend. She is the person that when you succeed, she's not going to be surprised because she has believed in you the whole time," said Cox. 
Cox is a pioneer in the online psychology program as their first graduate, and there will be many students who will follow in her footsteps. "When Dr. Eakin told me that I was the first graduate, I was so surprised. It feels quite surreal really," said Cox. 
Mississippi State Online made a true impact on Cox, and we are confident that Cox will make an impact on others through her passionate, thoughtful, and caring spirit. If you would like to follow in Candice's footsteps and earn your degree online, click here to apply or click here for more information on the psychology program.
---