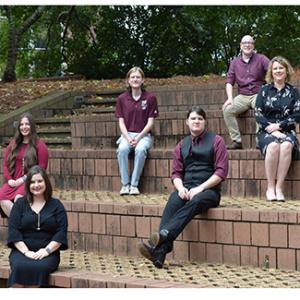 Mississippi State University Online's goal is to ensure that students have opportunities to succeed through online degree programs. The Center for Distance Education, informally known as Mississippi State Online, is comprised of different units to ensure this goal is accomplished. In response to the COVID-19 pandemic, the Technology Unit made difficult decisions and provided support to students, faculty, and staff. 
When the Technology Unit received word of potential steps MSU could be taking, they dropped everything they were working on and swiftly pivoted to help faculty.
"We laid out the tools we had, the things we knew, and the things we thought everyone needed to know to get started teaching online. We scrambled the plans multiple times. We had many long conversations on possible scenarios the university might take in reaction to COVID-19.  We developed a plan together so that whatever switch was flipped or was not flipped we were prepared," said Kiley Forsythe, CDE Instructional Designer.  
Once MSU's COVID-19 response plans were announced, the Technology Unit, along with Information Technology Services and the Center for Teaching and Learning, put their plans into action. This included ramping up training efforts for all MSU faculty, not just traditional online faculty. 
"Initially we started by teaching professors how to effectively use Canvas, just the very basics. Then the Online Education Task Force developed a survey for MSU faculty asking them what they needed help with and what they had questions about as the university transitioned courses to fully online instruction. From this information we were able to determine that MSU faculty needed assistance in how to engage students online, develop lectures and online content, and proctor exams with Honorlock to name a few. We were then able to tailor our trainings to meet faculty training needs," said Tracy Craven, CDE Instructional Technology Manager. 
Deborah Eakin, director of the online Bachelor of Science in Psychology program was one of many who benefitted from the variety of tools CDE staff developed. 
"For me, Summer of 2020 will always be about 'learn all the tech!' Fortunately, I was not alone in trying to do so. Kiley Forsythe helped me learn to navigate Canvas, including Studio, WebEx, and Teams. But the technology training was just part of the story. Kiley also taught me about increasing student engagement, providing meaningful discussion posts, how to address accessibility in an online class, and how to teach synchronously online. Tracy Craven was also invaluable in these trainings and I have yet to ask a technology question that she cannot answer," said Eakin.
There have been additional beneficiaries of CDE assistance and training across campus. "When we had to move all tutoring to WebEx in the spring of 2020, the CDE Technology Unit worked with us step for step to make it happen. They provided training and answered our questions. They were wonderful to work with," said Clay Armstrong, Director of MSU's Learning Center. 
At the start of the pandemic, the team included Tracy Craven, Instructional Technology Manager; Kiley Forsythe, Instructional Resource Consultant (now an instructional designer for CDE); Ben Kaminsky, Web Developer; Jordan Scruggs, Recruiting Systems Coordinator; Gerry Burleson, Instructional Technology Coordinator; and Madison Hardcastle, Graduate Assistant. Since then the team has had two new additions--Michael Garlotte, Web Developer and Nick Ramirez, Instructional Resource Consultant.
While this team has always been a close-knit group who worked well together, they have grown closer as a result of their work through the pandemic. The collaborative culture within their team allowed them to work together to become successful in executing their plans.
"One thing that I have really admired about the team is that they are always willing to help one another, even if they don't understand the problem fully. I really appreciate them.  I have been thankful for them all jumping in to help without reservation. It really gave us a time to shine," said Craven.
While Michael Garlotte is new to the team, he has observed how the team has made a positive impact through the pandemic. "There is something to be said about having such a great online infrastructure and being able to scale it almost immediately. That is incredible, because not all universities can. The fact that we are going to be able to survive that and come out on the other side stronger is amazing. This team all works really well together, and we understand what our roles are. I have only known these people for a month, and it has felt like forever," said Garlotte.
The Technology Unit has made a significant impact on faculty, staff and students at Mississippi State University through their efforts to offer technical support and assistance to over the past several months. The Center for Distance Education is very grateful to have this dedicated team of hardworking individuals who are willing to go above and beyond to help others. If you would like to learn more about the trainings and resources offered by the Center for Distance Education visit: https://online.msstate.edu/online-training/.
Not Pictured- Gerry Burleson and Nick Ramirez 
---