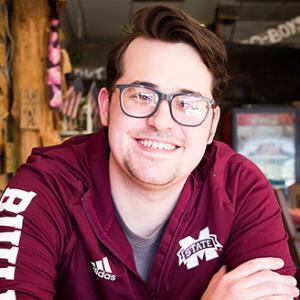 Chase Watkins is one of three Distance Makes a Difference scholarship winners through Mississippi State University Online and grew up working in his family's restaurant, Daddio's Down Home BBQ. He now manages and operates all the daily functions that come with working in a family owned business. Watkins does everything from taking orders and prepping food to managing his time between picking up morning and night shifts.
Watkins intended to take over the family business, but devastation hit the community he grew up in, Crystal Springs, MS. Watkins began to reflect on how he could make a difference so that those around him would be better equipped to handle the trauma of losing a loved one.
Watkins has always had a passion for the human mind and after the tragedy in his community, he was motivated to educate himself on how people suffer, the grief process, and guiding people to growth after trauma. At a time of loss, the death of his friend, he realized that it is not anyone's job to make something better, but to be there to listen, help others as gently as possible, and be a support system for them.
"During the time when my community was suffering the most, I kept thinking I had to have all of the answers. Sometimes you don't know what to say at a time like that and it seems impossible to make someone feel better but just being there and being a support system to someone is enough," Watkins said. "I really love the idea of being that for as many people as I possibly can."
That is why Watkins enrolled in the Bachelor of Science in psychology online program through Mississippi State University. After receiving his associate of arts degree online through Copiah Lincoln Community College, he wanted to complete his bachelor's degree online too.
"I'm really comfortable with online classes and I am really content with learning that way," Watkins said. "As soon as I saw that Mississippi State offered the Bachelor of Science in psychology online, and the majority of my credits transferred over, that pretty much sealed the deal for me, honestly."
Watkins is dedicated to finishing his degree in December 2020 with plans to pursue graduate degrees to fulfill his dream of becoming a licensed professional counselor to aid those suffering from mental-health related issues.
"Too often people suffer in private. I want to provide company for those who need it." Watkins said. "I am so thankful that online education exists and that there are scholarships out there that will help me continue my education, like the Distance Makes a Difference scholarship provided by Mississippi State Online. This scholarship will help me get one step closer to helping those who suffer and are in need of help."
---