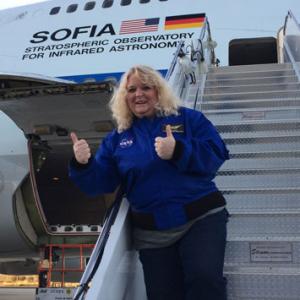 From inside the Stratospheric Observatory for Infrared Astronomy (SOFIA), a Boeing 747 modified with equipment designed to study celestial objects, Connie Gusmus, a 6th grade science teacher at Guntown Middle School in Guntown, MS, was surrounded by educators, scientists and astronomers. Wearing her dark blue jacket with the NASA insignia she stepped into the experience of a lifetime.
Gusmus' celestial journey began when she decided after 18 years as a math teacher she wanted to teach science. Gusmus did not have the time or flexibility to continue her education as a traditional student so Mississippi State University's online Master of Science in Geosciences with a concentration in Teachers in Geosciences (TIG) was the right choice for her.
She was able to watch lectures, complete classwork and take tests on her own schedule, allowing her to earn her degree while continuing to teach. As Gusmus describes it, "I didn't skip a beat!" She taught science for 12 years after completing the online TIG program, which prepared her for the remarkable opportunity to fly on SOFIA. Once again, she didn't skip a beat.
Gusmus and Bob Swanson, an astronomy instructor at Itawamba Community College, teamed up to apply to become members of NASA's 2016 Airborne Astronomy Ambassadors program. From 178 applicants across the nation, 11 teams were chosen. Gusmus and Swanson were the only educators from Mississippi selected to participate. After completing a graduate course in astronomy, the Mississippi team was partnered with professional astronomers to engage in two (2) 10-hour overnight missions onboard SOFIA as observers of NASA's research process.
The experience was created to enrich science teachers' abilities to share the value of scientific research. As they reveal their first-hand experiences, teachers are able to emphasize the many career paths young women and men can pursue in science, technology, engineering and math (STEM).
SOFIA flies at an altitude of approximately 45,000 feet and is fitted with a 2.5-meter (100 inch) telescope that uses a suite of seven powerful instruments to study objects in the stratosphere. Gusmus' most memorable moments included seeing the northern lights at 43,000 feet and flying along the famous Route 66 at 300 mph.
Completing her online graduate degree at Mississippi State University in order to become a science teacher opened the door to participate in the NASA program. "I want to thank all the instructors in the online TIG program at Mississippi State University. Without that program I would not be teaching science today," Gusmus says.
Gusmus' commitment to being an exceptional science teacher who inspires future teachers, scientists and engineers proves that for Gusmus and her students, the sky is not the limit.
---