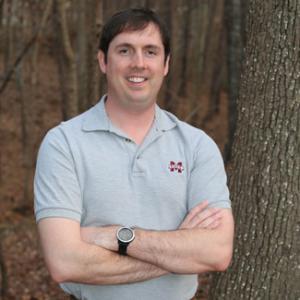 From the sandy, pine-lined coasts to inland hardwood forests throughout North Carolina, David Schnake is responsible for supporting forests in many diverse environments. After learning he would not have to give up his job as a forest research operations manager to increase his forestry knowledge, Schnake pursued a master's degree from Mississippi State University online.
Schnake interacted with faculty before enrolling in the graduate program to find a good match for his research interests. "Everyone I interacted with wanted to help," the 2016 graduate said.
While some may fear an out of sight, out of mind mentality in a distance or online learning format, Schnake never felt disconnected. He stayed in touch with faculty and staff on campus by seeking job-related forestry feedback regarding the 15,000 acres under his care. That professional mentorship from forestry experts added to the experience.
Guided reading classes allowed Schnake to focus on hardwoods and other species of interest after he enrolled. Access to forest lands in North Carolina allowed him to conduct research with the support of Mississippi State's renowned faculty.
Schnake enjoyed taking the variety of courses offered and MSU faculty assisted him in "figuring out" the field research process. He hopes to publish findings soon from another round of research that builds on his master's project.
"I learned about experimental design so I can identify potential issues with research projects on the land I'm charged with managing," Schnake said.
Additionally, the degree and experience has helped him build networks across the country. Schnake enjoys connecting with his forestry classmates and MSU's forestry faculty at conferences. He's quick to point professionals to MSU's online program.
"It has helped me out a lot. There've been a number I've recommended the program to, especially those who were working in forestry and didn't want to relocate," he said.
Networking enabled Schnake to teach others about forestry too. A vacancy at a nearby university allowed him to teach part time while completing his master's degree through Mississippi State. He discovered a passion for teaching and has begun work toward a doctorate in forestry as a result.
---