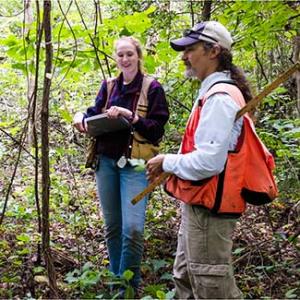 Eric Bridges had been looking for graduate forestry programs for quite some time but couldn't find one that fit all his needs. At the same time, he was working full time, started a family, and his education took a back seat until one day when he was at a conference in Austin, Texas. 
After a long day he pulled out the latest edition of the Journal of Forestry and started to flip through the pages. There, in his hotel room, turning the pages of the publication he stumbled across an advertisement for distance education in forestry at Mississippi State. He admits that he nearly missed the deadline to apply because he did not have a chance to read the journal when it first came out.
He dialed the number on the ad and instantly decided that it was time to take his career to the next level. Before he knew it, he was in the hotel lobby in Austin on the phone with a coordinator from the Center for Distance Education at Mississippi State. They told him, "We have to hurry. The application is due in 48 hours (about 2 days)." 
He began gathering his transcripts and was admitted to the program the following semester. Fast forward, four years later, he completed the program and even had his thesis, Urban Forest Economics: The Impact on having an Urban Forestry Program and Property Values, published with Natural Resource Economist and Undergraduate Coordinator, Stephen C. Grado, Associate Extension Professor, Jason Gordon, Professor and Head, Donald Grebner, and Extension/Research Professor, John Kushla, all MS Forestry faculty.  
While working on his master's degree, Bridges worked full time as a City Forester in a suburb outside of Memphis in Lakeland, Tenn. and was then hired at the Overton Park Conservancy in Memphis.  
"I already had real world experience as a City Forester and knew a degree in forest economics was important to have. As a land grant institution that is practitioner focused, I had the real-life experience to apply to my degree," Bridges said. "With that said, I knew Dr. Grado would guide my research into something I could use day to day in my work." 
Bridges said his thesis is something that he could present to the Memphis City Council and show them the value of building an urban forestry program.  
"While I was finishing my master's, I was hired at the Conservancy and once I finished my thesis and got it was published, the board of directors at the Overton Park Conservancy wanted copies of it because they needed it to build their case for urban forestry in Midtown Memphis," Bridges said. 
Since graduating with his Master of Science in Forestry, Bridges has enrolled in the doctoral forestry program on campus. 
"If I was not able to pursue my master's degree online then I don't think I would have been able to take the next step with an on-campus PhD program. I am now collecting research and data on Urban Forestry Ecology which has a direct effect on how we manage the Overton Park Forest, because it is urban and there's invasive species which directly impact a natural system like that. If we understand the ecology then we can do a better job of managing the forest, which will result in an economic impact," Bridges said.
---