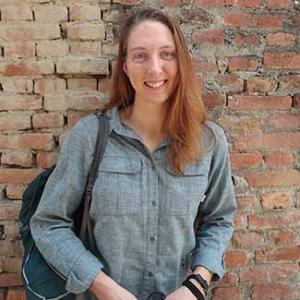 Hannah Austin grew up visiting her grandparents' ranch in Wyoming, and she cherishes memories of calving, fixing fences and cleaning stalls. The experiences of her youth helped develop an ongoing love of agriculture.
After earning an accounting degree in 2015 from Liberty University and becoming a Certified Public Accountant, she wanted to bridge her education and experience in accounting with agriculture. She found the right graduate program with Mississippi State's Master of Agribusiness Management degree
Austin said she loves how the online course format allows her to be part of the Bulldog family, even as she also pursues an opportunity 8,000 miles away in Nepal helping make a difference in that country's economic stability.
Austin previously volunteered with refugees seeking a better life in the U.S. and worked to help others living below the poverty line. As she was making decisions about her career and future, she quit her accounting job and relocated to Kathmandu, Nepal. Approximately 80% of Nepal's population is employed in agriculture, but only 30% of the country's gross domestic product is tied to the industry.
Austin wanted to learn more about the agricultural sector and international trade. She is now seeking solutions through the MABM program to help people in Kathmandu and the surrounding rural regions discover opportunities, like producing new crops well suited for the area. 
"My agriculture knowledge was limited. I chose Mississippi State since it is known as an agriculture university and because of its reputation," Austin said. "The agriculture economics department also was a selling point because I could work on economic development and agriculture at the same time.".
Austin already is applying the knowledge she is learning through her degree. New trade agreements between the U.S. and other countries were covered in her Global Markets class.
"I'm in a unique position to see how those trade agreements will directly impact people I know, even though Nepal is not specifically mentioned," Austin said. "I look forward to learning about the economics behind international trade and then applying that to local farmers I work with."  In sharing insight from her MSU education, Austin hopes to inspire farmers in Nepal to not only produce more crops, but also build financial security and brighter futures for their families.
MSU has been addressing world hunger and finding solutions for years. To learn more about MSU's global hunger initiatives, click here
---