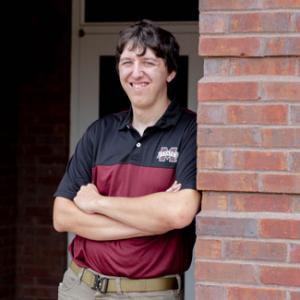 At the age of 16, two and a half feet of water rose in James Baugh's family home in Chicago, Ill., destroying his house and belongings. Because of this experience, he developed a strong interest in meteorology and decided to pursue his bachelor's in broadcast and operational meteorology at Mississippi State University.
Baugh's natural disaster encounter gave him a desire to help other victims of natural disasters, leading him to volunteer with a local disaster response team. After enrolling in the Bachelor of Science in Broadcast and Operational Meteorology program, Baugh recalls getting an email from the MSU Maroon Volunteer Center with a unique opportunity to give back to his community.
The Maroon Volunteer Center serves as a clearinghouse to match volunteers with community partners and service opportunities on and off campus. "Not being on campus, I didn't have much interaction with the student body, and I thought this was a great way to be involved and give back," said Baugh.
Over the course of one year, he logged over 750 hours of community service while serving with a disaster response team, which enabled him to earn the Maroon Volunteer Center Gold Volunteer Service Award and the Presidential Service Award.
The disaster response team Baugh worked with covered mostly the Midwest region, so traveling to disaster areas meant being gone for weeks at a time. Being a distance student offered Baugh the flexibility to be on the scene of disasters at any time and even complete assignments while on site to meet deadlines.
As a full-time emergency management professional, the 23-year-old assists the local police and fire departments with emergency and disaster response plans and develops preparedness plans for the community. Baugh is also a full-time meteorologist for a weather consulting company which forecasts for clients based in and around the Gulf Coast.
"I really enjoyed the forecasting and radar classes because they were subjects that were applicable in real-time. I could use the techniques I learned in the courses instantly and watch my forecasting improve over the duration of the course," said Baugh. He had the opportunity to apply the skills he learned in his tropical weather forecasting class when he was the sole meteorologist forecasting for clients during Hurricane Harvey in 2017.
A capstone course at the conclusion of the academic program allowed Baugh to visit MSU's campus for the first time.
During the three-day on campus workshop, Baugh was able to visit campus and meet many of his colleagues and professors, further developing professional relationships with meteorologists around the globe. After completing the online broadcast and operational meteorology degree program, Baugh is confident he can better forecast weather hazards and overall help his community be better prepared.
For more information about the Bachelor of Science in Broadcast and Operational Meteorology online degree, visit online.msstate.edu/geosciences/bomp
---