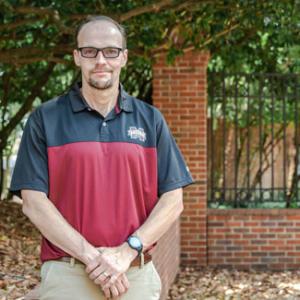 Earning a master's in applied meteorology at Mississippi State refined and increased Jeffrey Jackson's knowledge and skill set of operational meteorology, which allows him to effectively prepare weather forecasters in the U.S. Navy.
After serving in the Navy for 24 years as a weather forecaster, Jackson retired and now provides strike warfare weather forecasters with operational meteorology training. Jackson is a meteorologist for the U.S. Navy and is employed at the Fleet Weather Center Strike Detachment Fallon (FWC Strike Detachment Fallon) in Fallon, Nevada where he serves as a support system for forecasters deployed throughout the world. "The forecasters here go through a qualification process before they are certified to issue forecasts," said Jackson.
The mission at FWC Strike Detachment Fallon is to train and deploy strike warfare weather forecasters in support of all Carrier Air Wing operations and improve the tactical meteorology and oceanography support for the Naval Aviation Warfighting Development Center (NAWDC).
As a weather enthusiast, Jackson maintains a personal weather station as a hobby and hopes to one day start a weather forecasting website for the city of Fallon. Since taking this meteorologist position, Jackson enrolled in the online applied meteorology master's program at MSU as a means to brush up on the operational side of meteorology, which has been directly applicable to his current career and his hobby.
Jackson is married to his wife Dawn, and they have an 8-year-old daughter Hannah. Fitting in coursework around his career and his obligations as a father and husband had its challenges, however because the program was online, the experience attending class was great due to the flexibility. "The courses were challenging but in a good way as the knowledge gained was tremendous! The environment was on par with a more traditional classroom setting because the instructors made themselves available for questions and provided video lectures," Jackson said.
Jackson's experience with MSU does not stop with education. He witnessed firsthand why MSU is ranked as one of the Best Schools for Vets when the G.V. Sonny Montgomery Center for Americans Veterans assisted in the process of receiving his educational benefits, making the communication and process easy. "As a veteran, I have been treated exceptionally and feel that other veterans are also welcomed," said Jackson.
---