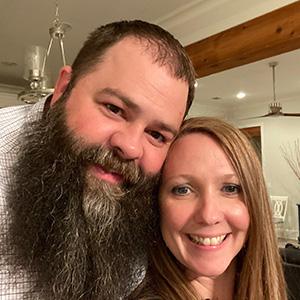 Jeffrey Robbins is an alumnus of Mississippi State University. Robbins is finishing his journey to a Bachelor of Science in Geoscience with a concentration in Broadcast and Operational Meteorology from MSU Online. Robbins has been married for 21 years and has a 13-year-old daughter and a 19-year-old son. His journey was not an easy one, but his accomplishments and drive to succeed are a true testament to his character.
When Robbins was 25 years old, he joined the United States Air Force as an Operational Weather Squadron. After four years, he was assigned to a Combat Weather Team in Southwest Asia. "When you join the Air Force, you go through a program where you have to pass different physical and mental tests. I was 25, and older than the average person going in. All my peers at the time were about 18. After the tests, they give you a slip of paper, and you have to put down eight jobs. I knew that I wanted to do weather. I grew up in the south around hurricanes and tornadoes. Weather has always fascinated me. I knew that the Air Force had meteorologists, and I knew that was what I wanted to do. There was no question. I refused to put down anything other than weather because I knew what I really wanted to do," said Robbins
Robbins has military service in his blood. His mother was in the Coast Guard for 25 years, his father was in the Navy, and his grandfather and uncles were all Marines. "My goal when I entered the military as active-duty Air Force was to stay in and retire there. I separated unexpectedly 11 years after joining the Air Force. My father was diagnosed with brain cancer, and I was actually about to go to Afghanistan for a year. He only had six months to live. I couldn't have that weight on my conscience. Getting out abruptly when I did was a very hard decision for me to make. I spent those six months with him every day before he passed. When I left, I did not know that I could get a job doing the same thing. Luckily, I was picked up as a civilian doing the same job I did in the Air Force. My title now is Chief Science Officer," said Robbins.
Not only were his family members part of the military, but they were also part of the MSU Bulldog Family. "I was born and raised a Bulldog. My grandfather was an alumnus. He was in the agriculture field. After he left the Marines, he went to Mississippi State. He got his degree in agriculture then worked for the United States Department of Agriculture in Washington, D.C.  I remember being eight years old and rummaging through my grandfather's things. I found a thesis that he had written. I have always loved Mississippi State and MSU Football," said Robbins.  
Although Robbins is an online student, he has felt and experienced MSU's family culture. "My family and I came to visit last year. The campus is beautiful, and the stadiums are amazing and top notch. Most of all, the culture is amazing. A couple weeks ago, I received an MSU facemask in the mail. Every time something like that happens it makes you feel like you are a part of the MSU family," said Robbins.
Robbins previously took college-level courses on and off through various universities. He understood the value of a college degree but faced some challenges along the way. "I have never been able to just focus on school. As a combat veteran, I have spent 1098 days in Southwest Asia, over 360 days were in Iraq and Afghanistan during Operation Iraqi Freedom, Operation Enduring Freedom, and Operation New Dawn. I suffer from PTSD, severe anxiety, and severe depression, and I was recently diagnosed with adult ADHD. I have all of these things fighting against me, but I have been able to make it work. I decided to make school a priority when I came to MSU," said Robbins.
Finding support from his family members and friends has led to Robbins being successful in completing his degree. "There is no way that I could have gotten to this point without my wife. She has been very supportive of the late nights of homework and the Saturday mornings spent at Starbucks," said Robbins. 
To encourage those in the same boat as Robbins, he gives some valuable advice. "Take it slow. Just getting started is the hardest part. Just start with one class, then try taking two classes the next semester. If I can get my mind wrapped around and do this, anyone can," said Robbins. 
By sharing his story, Robbins hopes to inspire and impact others to reach their personal goals. "I share my story with other veteran friends. I have actually even walked some through the process of applying to schools. I am an instructor through the Air Force as well. One of my students is enrolling in this same program that I am about to graduate from. He is doing it because he heard me talk about it. If I had some sort of positive impact on his life, that is great," said Robbins.
At the end of the Fall 2020 semester, Robbins will graduate from MSU. "The biggest goal that I have ever had is about to be accomplished on November 25th. I can't imagine how it is going to feel when I get that diploma in my hands because I am already super excited. I have received my cords, cap, and gown, and I have mailed out invitations. It is a day that I never thought would come because it has been very, very hard to get here. It is going to be very fulfilling. I am already applying to graduate school," said Robbins.
The values that Robbins' father instilled into him assisted him in crossing the graduation finish line. "One thing that my dad taught me, and that I am trying to teach my 19-year-old son right now is that things get hard and people want to quit. My dad has always taught me to never give up, fight for what you believe in, and work hard for what you want," said Robbins.
Jeffrey Robbins' resiliency and tenacity have led him to reach his goal of receiving his Bachelor of Science in Geosciences with a concentration in Broadcast and Operational Meteorology. This could be you! Visit online.msstate.edu/academic-programs to learn more about the over 60 degree programs offered through MSU Online or visit online.msstate.edu/apply to start your journey today!
---