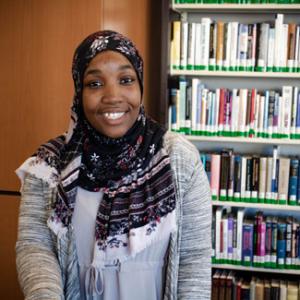 Jinna Alston, knows the power of having a special teacher willing to make a true difference in a student's life -- because she was that student.
"One of my teachers, Ms. Bird, was a very important influence in my life," Alston said. "She taught me to reach beyond my limitations and helped me develop strengths I didn't know I had."
Alston, a distance student at Mississippi State University, (MSU) and a recipient of a $1,000 Distance Makes a Difference Scholarship, shared her story in her scholarship application.
My family struggled financially," she wrote. "We lived in an area that did not have electricity and we often struggled to make it to school. There were even some days where I would have to skip meals."
On days Alston was able to attend classes she was embarrassed at having missed lessons, feeling she didn't know enough to answer questions or complete classwork. Bird saw what was happening and reached out.  Soon she was sharing her lunch with Alston and staying many days after school to help her catch up on assignments.
"We have a saying in our community, 'We should never fill our stomachs when a neighbor is hungry.'  Ms. Bird's actions certainly exemplified that for me," Alston said. "Her kindness and mentorship gave me confidence in myself and my abilities despite my economic situation."
Alston, described marrying and starting a family, while making the clear choice to put her academic goals on hold in order to concentrate on being a mom. However, the desire to further her education was never far from her mind.
When her daughter and son turned five and two, Alston decided it was time to pursue an online bachelor's degree in elementary education with a concentration in middle school. She credits MSU's distance education program with allowing her to continue to be the best mother she can be while completing her degree and following her dream.
"I am extremely grateful that MSU's distance education program exists. It is literally a dream come true for me. Without it, it would be impossible for me to go back to school and complete my degree in a field I am passionate about."
Alston's gratitude also includes receiving the Center for Distance Education's $1,000 Distance Makes a Difference Scholarship for the fall of 2018. The scholarship meant she would not have to interrupt her education.
When asked what it was like to receive the scholarship Alston described being extremely happy and being in a hurry to tell her husband.
"Our finances were tight at the time so my husband and I had decided I would have to skip the fall 2018 semester. With the scholarship, I knew I wouldn't have to do that. I would be able to continue without interruption and graduate as planned in fall 2019," Alston explained.
Alston's family members are planning a big celebration when she completes her degree next year. They agree it is important that Alston become an educator so she can make a difference in the lives of her students the same way her teacher made a difference in hers.
The Center for Distance Education offers 47 accredited online programs from several colleges on Mississippi State University's campus. Bachelors, masters and doctoral degrees as well as professional certificates are available to students across the country and around the world.
For more information, visit online.msstate.edu
---