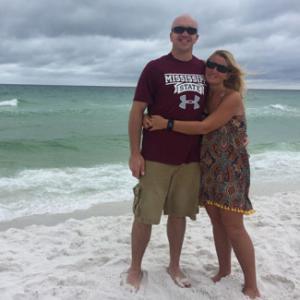 The quest for professional development brought John Barnes to Mississippi State University to pursue a Master of Science in Workforce Education Leadership degree online.
Barnes is a full-time working dad of three sons ages 14, 19, and 21, and a husband of 15 years. The Tupelo, MS native is an avid Bulldog athletics supporter and enjoys attending football and basketball games on campus.
After earning his bachelor's degree, Barnes wanted to pursue a graduate degree. His passion for team-building led him to Mississippi State University.
He chose the Master of Science in Workforce Education Leadership program because it aligned best with his current role as a Human Resources Specialist in Team Member Relations at Toyota Motor Manufacturing Mississippi in Tupelo.
"Utilizing technology to facilitate positive learning experiences is one thing that I feel will play a significant role in my career," said Barnes. "I also have gained valuable insight in the different learning styles of individuals and the different teaching methods I can use to make interactions with team members better."
Barnes' biggest challenge in earning his degree online is managing his assignments while maintaining his work schedule, which rotates shifts every two weeks. He puts in roughly 15 – 20 hours a week completing assignments and studying. Juggling school and work has made Barnes realize the importance of time management in both his professional and personal life. Going to school online has helped him become more productive.
Barnes pursued an advanced degree through Mississippi State to grow his professional skillset and to become more distinguished in his field. "I've always wanted to teach on a college level, and I knew I'd need a master's to do that," he said.
Barnes advocates for others to seek advanced degrees. "Do It! It requires discipline and time management, but it is absolutely worth it. Distance Education has enriched my life personally and professionally beyond measure," he said. The opportunities provided through MSU online have been exceptional for Barnes, and he hopes that his story persuades others to take that leap to pursue their educational dreams.
---