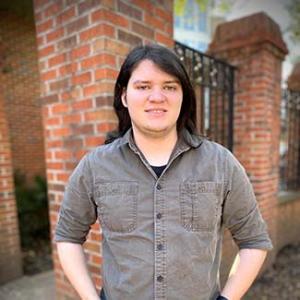 As the Recruiting Systems Coordinator for Mississippi State University's Center for Distance Education (CDE), Jordan Scruggs is an integral part of the Technology Unit. He implements and maintains communication plans for over 60 online degree programs, handles the prospective student database and applications, and assists in the creation and maintenance of internal software and hardware systems.
"What I like most about my job is while I have a lot of tasks to do- they can either be independent of one another or somewhat related. I have the chance to tackle those things in the way I see fit. I have written scripts and programs to help me keep up with the workload. Having the chance to write a program to automate some of my work really gives me the chance to think through the problem to make the process faster, easier, and more efficient," said Scruggs.
In 2013, Scruggs made the move from his hometown of Tupelo, Mississippi, to Starkville to pursue his Bachelor of Science in Computer Science degree. In April 2017, he began working as a student worker in the Center for Distance Education. "I noticed a couple of the program coordinators struggling with manual program data entries. With my background in computer science and my experience writing a few programs, I thought I could figure something out to help the coordinators. The first version of it was an Outlook Mac Pro which I had never written for, but it worked! It took a lot of trial and error, but I think that led me to getting hired for this position," said Scruggs.
After graduation, Scruggs started his full-time position with the CDE. His willingness to help where needed and problem solve earned him the nickname "MacGyver of CDE."
 "I love puzzles. I love to problem solve. I prefer understanding things to their very core. It is not so much about finding a solution but being willing to put in the research to understand something at a deeper level--especially if there is a deeper flaw in the problem," said Scruggs.
Scruggs is currently enrolled in the Master of Science in Cyber Security and Operations program at MSU. Throughout his undergraduate coursework, he has taken classes to learn Japanese. Between coding and spoken languages, Scruggs knows seven different languages. "I find languages interesting. When I try to translate something from English to Japanese or vice versa it is almost like a puzzle," said Scruggs. 
Multiple things led Scruggs down the path to his interest in Japanese. "I originally became interested in Japanese through music, anime, and video games. The media overtime has increased my interest in the language. When I got to college, I needed a humanities course and an international elective. I had a friend who took the Japanese course and really enjoyed the professor, so I thought I would give it a shot. I am glad I did," said Scruggs.
Along with his interest in Japanese, Scruggs also enjoys playing video games, being outdoors, learning about cars, and managing his web server in his free time. In the office, Scruggs is known as having "I am happy to help" as his catchphrase. 
Are you thinking about getting your degree online? Check out Mississippi State University Online's degree programs!
---