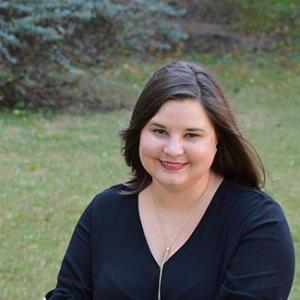 Kiley Forsythe is Mississippi State University Online's lead Instructional Designer; however, when choosing her college major, she had no idea that the career even existed. As a young girl, Forsythe spent her days dreaming about being an animator for Disney movies, but as she got older, she realized that there were not many opportunities to be an animator in Mississippi. Her junior year of high school, she applied to Mississippi State University as an architecture major.
"My senior year of high school my English teacher, the best teacher I have ever had, had us read Flags in the Dust by William Faulkner. The book isn't even being published anymore. Faulkner writes about where I am from. I thought to myself 'I know this spot! I can go stand in this spot in my hometown!' It was the coolest thing ever. I switched my major to English and never looked back," said Forsythe. 
After completing her Bachelor of Arts in English, she started on her Master of Arts in English where she learned that she loved teaching and had goals of becoming a professor. "I figured out early in graduate school that I love teaching. More specifically, I love working with students. As I began to work in the MSU Writing Center as a tutor, I saw that I could help more students by helping faculty make better assignments and write clearer directions," said Forsythe.
Forsythe graduated with her master's degree then worked as an instructor and assistant director of the Writing Center at MSU. Then she began working on MSU's Quality Enhancement Plan doing training to help faculty improve class writing assignments. From there she saw the Instructional Resource Consultant position open at MSU Online, and that is when her journey with MSU Online started. In 2020, Forsythe was promoted to her current role of Instructional Designer.
As the Instructional Designer, Forsythe helps faculty in designing their online courses to ensure that learning objectives are accomplished. "I ask faculty what they want their students to learn, and then I figure out ways to help them make that happen. I take what faculty hope to be able to accomplish and help them accomplish it. The most rewarding part is having faculty come back to me because their students are learning and getting excited about the course that we designed," said Forsythe.
In 2017, Mississippi State University adopted Quality Matters as its official standard for online courses. Forsythe is certified to administer the Quality Matters rubric to evaluate and review online courses. "I am willing to help. There is never a need for a faculty member to apologize for what they don't know. I want to help them in any way that I can," said Forsythe.
Not only does Forsythe assist instructors in the design of their courses, but she also leads the Community of Practice. This is a digital space MSU Online created for educators to share ideas and resources, learn from each other, and network. "We hope that it is a place for people of any skill range that teach online to come and talk with others who teach online. This place is for them to talk about what they are struggling with and even things that are working really well for them. I hope that the people in the network are becoming greater online teachers because of this," said Forsythe.
In her free time, Forsythe loves to read, sew, play video games, and watch movies with her husband who was also her high school sweetheart. During the quarantine, Forsythe read over 40 books. "I really like anything that isn't too grounded in reality. I will read anything from science fiction to romance to fantasy. I listen to audio books as well while I am cooking or driving," said. Forsythe.
Forsythe has always had a creative side and is able to incorporate creativity into her professional and personal interests. She began sewing when she was four years old. "I would stay at my great grandparents' store while my parents worked, so my grandmother taught me how to cross stitch and crochet to keep me entertained. My grandmother has three daughters. When they all got married, she made a pattern for each of them. When I got married, she did one for me. My grandmother is now older, so when my sister gets married in April, I am going to cross stitch a pattern for her," said Forsythe.
Part of instructional design is continuous quality improvement and incorporating new technologies as advancements are made. Forsythe is always ready and willing to help faculty improve their online courses. Learn more about course consultations and resources available from MSU Online at our course design page
---