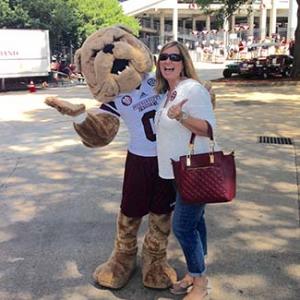 When Kim Stone's youngest child Jacob, then a freshman at Mississippi State, questioned why she hadn't finished her degree, she couldn't come up with a good reason.
"I realized all of my 'excuses' of time, money, raising kids, were no longer valid. So, with encouragement from my husband and kids, I decided to take the plunge and return to college as a full-time student while working over 40 hours a week as a high school registrar," Stone said.
Stone knew that she didn't want to pursue her degree in the area of K-12 education, the area in which she had worked for years, and decided on a degree in business.
After completing her associate degree from a local community college with honors, Stone made the transfer to Mississippi State's online business administration degree program. However, a fateful conversation with a military recruiter would change her educational and career goals.
Stone once envisioned herself joining the military after she graduated high school; but her parents did not like the idea of her military service or her attending college out of town. Instead, Stone found herself a young bride starting a family.
As Stone was working toward her business degree, a young sergeant came in her office for assistance with recruitment paperwork. That day he also wanted some advice regarding his college classes. Stone offered him some "motherly advice" since he was the age of her own children, and he thanked her with some advice of his own.
"As we discussed his college transcript and his goals, he told me that he loved being able to visit with me at the high school, but that I was not working in the environment where I could be the most effective. That's when he planted in my head the idea of working for the Veterans Administration. He said that my compassion and work ethic would be an asset at the VA," Stone said.
Within two weeks of her conversation with the military recruiter, Stone turned in her notice with the public school in which she worked and began a new job working as a Military Admissions Counselor with a local university.
"That was one of the most rewarding jobs I have ever held. It solidified my goal to pursue a career with the VA. I switched my degree plan to the Bachelor of Science in Interdisciplinary Studies (BSIS) with concentrations in Business, Technology and a Veterans Certificate. The instructors in the VA courses pushed me to explore the issues that veterans face," Stone said.
In October 2019, Stone received a call from the State of Tennessee offering a very promising interview to work with a federal grants program. The catch was that she needed to reside in the Nashville area to qualify.
Stone said she always wanted to move to the Nashville area; so, she discussed the idea with her husband, and he told her to pursue her goal knowing how much the military meant to her.
"My cousins joined the Navy and Navy Reserves and Jacob is on a path to join the Navy. Though my path to join the military was changed, the sense of patriotic duty never left my heart. This is why I want to help veterans. The BSIS with the Veteran's Certificate will hopefully provide me the opportunity to assist veterans at the VA," Stone said.
Stone moved to Nashville and is currently working for the State of Tennessee with the Federal Grants Program, including the VETS program. She hopes to advance her career and one day earn a position with the VA.
Stone and her son Jacob both graduated with their degrees from MSU May. "The most rewarding part of this experience has been working toward the goal alongside Jacob. We offered support and encouragement to each other during our shared time as MSU students," Stone said.
The cancellation of the May graduation ceremony due to Covid-19 did not hamper their spirits much. "While I wish we could have walked together on May 1st, it was a lesson to learn that the world is much bigger than the two of us. To celebrate the moment, I ceremoniously removed the MSU sticker on my vehicle and replaced it with an "MSU Alumni" sticker. I then joined the Nashville MSU Alumni Chapter," Stone said.
For those considering their own pursuit of a college degree as a non-traditional student, Stone offers this advice, "It's never too late! I was apprehensive since it had been thirty years since I was in high school; but from the academic advisors to the instructors, there is always support and readily available assistance."
---