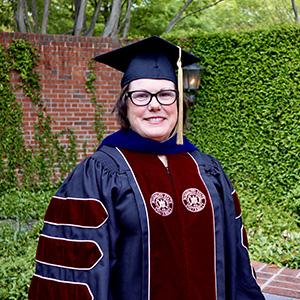 Kim Wilson, a Mississippi State University Online Community College Leadership student started the journey to her doctoral degree in the summer of 2014 while working full-time. Along the way she has continually persevered through challenges, and on April 30, 2021, she will take the victorious walk across the graduation stage.  
Wilson graduated with both her Bachelor of Accounting and Master of Business Administration from Mississippi College. She married a Mississippi State Bulldog and fell in love with MSU. "My husband is an alumnus, so we started going to football games. I saw the family atmosphere on campus. I clicked in very quickly, even though I wasn't an alumna I felt like I was one," said Wilson. 
While working for the Mississippi Community College Board teaching adult education and English as a Second Language (ESL) classes, she discovered MSU's PhD in Community College Leadership program. "The degree directly correlated with what I was doing with the community college board. I thought an online program where I didn't have to miss work would be a good fit for me. I enrolled, and I have really enjoyed it," said Wilson.  
Her passion for teaching and helping others learn English as a second language grew stronger over the years. When choosing a topic for her dissertation she had no trouble deciding to research ESL student retention. "My dissertation is on ESL retention, specifically of the female Hispanic learner and all of the problems that demographic faces. It was a qualitative study. I conducted interviews and examined that data. I talked to professors to learn information on how the classrooms were styled. I also talked to the students and looked at the problems they were having and how they could possibly be overcome," said Wilson. 
Wilson faced the challenge of completing this qualitative research amid the COVID-19 Pandemic, however, she found that the research was the most rewarding part of her entire PhD program. "ESL is such a mission and ministry in my life. It is very near and dear to my heart. I really enjoyed when I was able to talk to students and hear their problems firsthand. To write something that could help them down the road and help other programs accommodate and retain more students was very rewarding. It is my hope that students can achieve their goals," said Wilson. 
Wilson encourages others to never give up on the goals that they set for themselves. "I am the type of person that does not want to quit. It was consuming me to finish my degree. I am finally at the end of the tunnel and will graduate on April 30 with my PhD. My encouragement to others is do not give up. You are never too old. Complete it slowly by just chipping away at it if you need to, but hang in there and persevere to the end," said Wilson. 
Many students have walked into Wilson's classroom to learn and walked out encouraged. "I would tell my students who were struggling with the same things that I was struggling with to not get behind. Keep current in your work. It becomes overwhelming if you procrastinate. Break it into manageable pieces that fit your schedule. You don't have to finish quickly. Chip away at it all the way through. You will eventually get there," said Wilson. 
Taking a couple of classes each semester was the way Wilson was able to manage completing her degree. "I did it slowly because I was doing online classes and working full-time. I am a perfectionist. I wanted to go slower so I could concentrate more on my classes. I took two classes each semester, and it made it more manageable. It didn't matter to me how long it took me, I just wanted to finish it," said Wilson. 
Wilson considers herself a lifelong learner. She plans on continuing to take language classes at Mississippi State after she completes her PhD. "I love school. We learn things every day. Sometimes we don't realize it because we aren't enrolled in school. I think maintaining something that you are learning always keeps your brain active. It is good for your brain to exercise it," said Wilson. 
Not only has her love for languages allowed her to help people learn English as a second language, but they also have allowed her to speak to people in their native language when traveling the world. "I enjoy traveling the world tremendously. I enjoy being able to speak in the person's language because it is building such an understanding between cultures and nationalities. It broadens our mind and makes us more accepting and aware," said Wilson. 
Wilson is very thankful for the support of her family and the way they have continually encouraged her to the finish line. "In the dedication of my dissertation, I thanked my family for understanding. They were there when I needed to talk, cry, or vent. They encouraged me when I needed it, and they gave me spaced when I needed it. The remained sensitive to the things that I needed," said Wilson. 
Both of Wilson's daughters have graduated with their undergraduate and Doctor of Veterinary Medicine degrees from MSU. "Even when my children were small, they had the MSU cheerleading uniforms and pom poms. It was never a question that they were going to be anything but a Bulldog. We are Bulldogs through and through. It is now time for me to have a degree from State," said Wilson.
Wilson is both very relieved and excited to have her moment of walking across the stage at graduation. MSU Online is proud to congratulate all Spring 2021 graduates! Are you thinking about enrolling in the Doctor of Philosophy in Community College Leadership program at MSU Online? Visit https://online.msstate.edu/phcl/ to learn more!
---