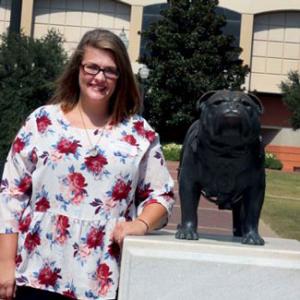 LaShae Pritchett has dreamed of becoming a teacher for as long as she can remember, but life has always had a way of pushing her dream to the side. That is, until the day she realized who was watching her every move -- her two young daughters.
"My girls were my motivation to go back to school." Pritchett said. "It is important to set a good example for my daughters, and Mississippi State University's online bachelor of elementary education allowed me to do exactly that."
Pritchett said that MSU distance education provided her with the only chance to achieve her academic goals because she does not live close enough to a university to commute to classes. The online program has allowed her to continue to work, complete her degree, and still have time to spend with her daughters.
Not only did Pritchett wish to set an example for her daughters, she hoped to motivate single mothers to follow their dreams. "Many, like me, think they cannot support themselves and their children financially while pursuing their degree," explained Pritchett. "I wanted to be proof that it is possible.
To that end, Pritchett left no financial stone unturned. She applied for the Center for Distance Education's first Distance Makes a Difference Scholarship and was chosen as one of three recipients who received $1000 during the 2018 spring semester.
"I truly appreciate receiving this scholarship and feel honored to be chosen," Pritchett said when she learned she was a recipient. "It will allow me to meet my financial requirements during my last semester.
Pritchett is looking forward to crossing the stage during her commencement ceremony in May, seeing her two girls sitting in the audience, smiling and watching their mother accomplish her dream.
For more about the online Bachelor of Science in Elementary Education, visit online.msstate.edu/elem/
---