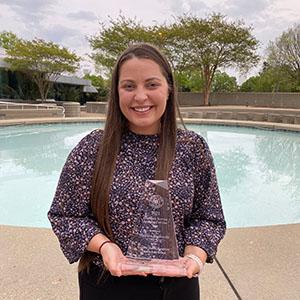 Growing up in a small town in Arkansas, Madison Hardcastle dreamt of becoming a veterinarian, and those dreams have taken her on a journey to Starkville, Mississippi. Her love of horses fueled her dreams. 
During her undergraduate career, she changed her major multiple times in hopes to find one that made her happy. Hardcastle graduated from the University of Central Arkansas with a Bachelor of Science in Biology, and her interest in animal science and love for the veterinary field led her to pursue a Master of Science in Animal and Dairy Sciences at MSU. Her thesis topic focuses on reproduction in cattle. "I study cryopreservation in bulls to improve the process. It involves researching fertilization factors, gamete formation, and other things from a molecular basis along with studying the producer aspects. I want to help the producer that raises the animals improve their efficiencies," said Hardcastle. 
To help cover out-of-state tuition, she applied for a graduate assistant position with the Technology Unit at the Center for Distance Education, and she started the position in January 2020. Her duties included helping online students with technical issues, creating virtual brochures, and informational documents and handouts. In March of 2020, her duties changed in response to the COVID-19 Pandemic. "I began working more with faculty. I assisted with over 70 WebEx trainings. I created supplemental materials for those trainings. I helped faculty make the transition to online so that they could best serve their students, and I taught them about the different resources that are available to them," said Hardcastle. 
Hardcastle's favorite part of her position is teaching faculty ways to improve their courses. One faculty member that she has helped is Stacy Jackson with the MSU ACCESS program. ACCESS is an inclusive program for students with intellectual or developmental disabilities that provides students an opportunity to successfully transition into higher education. "I helped create a virtual ATM for ACCESS students. It was an interactive PowerPoint that walks you through the steps of going to an ATM. In a meeting recently, she let me know that one of her students was able to go to the ATM and use it for the first time without assistance. It was very rewarding," said Hardcastle. 
In December of 2020, Hardcastle learned of her acceptance to veterinary school at MSU. "Getting into vet school is a competitive process. I was so excited when I found out that I got in at Mississippi State. That moment was filled with tears and happiness," said Hardcastle. 
When Hardcastle is not in the office, lab, or classroom, she is likely spending time outdoors. "I love hiking or biking with my dog. I also spend a lot of time out at the Mississippi State Horse Unit volunteering, teaching classes, and riding," said Hardcastle. 
One of Hardcastle's favorite hobbies is going to concerts and rodeos. "I have been to more concerts than I can count, mostly country. I have a pair of cowboy boots with over 15 signatures from country artists including Thomas Rhett. I love to go to rodeos and horse shows too. When I finish vet school, I plan on getting another horse to compete with and treating myself with a trip to the CMA Fest in Nashville," said Hardcastle. 
Hardcastle loves Mississippi State and the town of Starkville for many reasons, but as a self-proclaimed foodie, she has loved trying new places to eat around town. "I know when I leave Starkville, I am going to miss Two Brother's tacos and Stromboli's cookie dough bites. The food in this town is great, and people are genuinely so nice," said Hardcastle. 
Her future goals are to work in a rural area that has a demand for a large animal veterinarian. With the marketing skills she has learned from her time at MSU Online, she also has goals to start a firm that assists veterinary clinics with their branding and social media strategies. "There are so many clinics out there that need marketing help, and I would love to be the one who helps them," said Hardcastle. 
In the short amount of time that Hardcastle has been on the technology team at MSU Online, she has made an immense impact. Her dedication and hard work have not gone unnoticed. "Many times, you hear the term 'we could not have done this without (blank).' Usually, this is an exaggeration to make someone feel special. I say this because I truly believe that without Madison in our unit, we may not have made it through the last year. Madison has been an integral part of our success," said Tracy Craven, MSU CDE Technology Unit Manager. 
Hardcastle was recognized as the 2021 Graduate Service Assistant of the Year, and MSU Online wants to congratulate and thank her for her willingness to rise to the challenge and commitment. While her interest in animal science initially brought her to Starkville, she has become an integral part of MSU Online along the way, and she will leave it better than she found it.
---