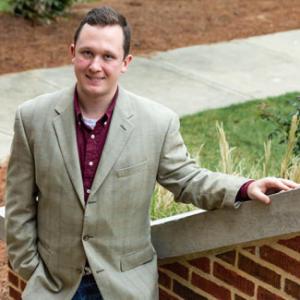 When Matt Janzen completed his bachelor's degree in agribusiness and master's degree in agricultural economics at Mississippi State University he was combining two lifelong loves – agriculture and MSU.
Janzen's love of "all things ag" can be traced back to his grandparents, who owned a farm in Corinth, Mississippi, while he was growing up. Every weekend possible, the family made the trip from their home in Scottsboro, Alabama, to Corinth to enjoy the good life – hunting and trapping, working on a tractor and breeding geese and chickens – all farming activities he loved.
In addition, Janzen was enthusiastic about going out with his Dad, who was a devotee to MSU, an MSU forestry graduate and forester for 38 years. They would walk the forests together as his dad taught him land management practices.
"The experiences with my dad and granddad and the love of agriculture they shared with me made my degree choice an easy one," said Janzen. "When I got the opportunity to come to MSU as a student it was my dad who suggested agribusiness. I looked into it and found it was everything I wanted out of a degree.
During his time as an undergrad, Janzen joined the Livestock Judging Team, which he describes as bringing the classroom and real-life applications together. As a member of the team, he was able to see the country by evaluating livestock on various farms and ranches and traveling to collegiate contests.
Janzen attributes his success as an undergraduate to his experiences on the team. He developed discipline and commitment to his school work and team, enhanced his ability to prioritize time and projects and honed his quick reasoning skills.
As his skills developed as a student, opportunities to undertake research successfully came his way. Then he was accepted into the Agricultural Economics graduate program.
After finishing his master's degree, Janzen was able to join the agriculture economics department as the Director for the Master of Agribusiness Management Distance Education Program.
"The goal for the program is to prepare students for anything agriculture or business can throw at them," Janzen said. "Online students are particularly hardworking because they have jobs and need this degree to enhance their ability to provide for their families. We intend to help them make their career goals reality." Dr. Keith Coble, head of the Agricultural Economics Department said Matt's passion and vision for the Distance MABM shows up every time he talks with him.
"His real desire is to guide individuals into a program that can further their career opportunities," Coble said.
---