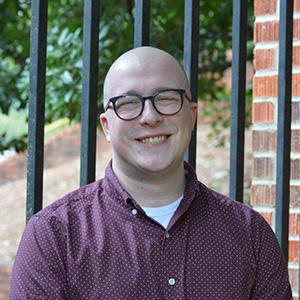 Mississippi State University graduate Michael Garlotte returned to his alma mater as a Web Developer for the Center for Distance Education. In his undergraduate education, Mississippi State offered him a unique opportunity by placing the Computer Science degree in the Engineering department. Garlotte made a quick decision to move to Starkville.
"I enjoyed the environment, sense of community, and all the things people like about State, but the placement of the program really pushed me over the edge," Garlotte said.
Web Development has always been an outlet for Garlotte, but he began his career on the radio. Garlotte held responsibilities ranging from hosting the show to designing their website interfaces. Because the station had just switched to a new website, Garlotte embraced creative freedom.
"I edited the show audio as well as the website, created podcasts, and produced specialty shows. If there was ever an extra hour, I put together a show, and, if it covered the bases, it aired," Garlotte said.
At the radio station, Garlotte worked under Anthony Craven, WMSV General Manager and husband of the Instructional Technology Manager for Mississippi State Online, Tracy Craven. Working for Craven, he gained access to a job of his dreams. When he was looking to move closer to Starkville, he applied for the position of Web Developer and received a rapid response.
"One day, I got a call from Tracy asking me to interview, which was not too long after followed by an email telling me I started Aug. 3 as a Mississippi State Online Web Developer," Garlotte said.
The creative side of web development has always intrigued Garlotte, and he was able to explore this avenue in his new position. His fascination with the psychology of the strategy behind web page design has played heavily into his career as a web developer.
"When you see a webpage, certain things make you want to click on them. Placing things in certain places to make the brain do a specific action is so interesting to me," Garlotte said.
Aside from the tech world, Garlotte holds a passion for the art of Disney World. While he was a student at Mississippi State, he worked for the Disney College Program as a monorail pilot. At a young age, he fell in love with the art of the theme parks and theme park design, so he was glad to return years later.
"There are so many stories enclosed in one space. Fingers-crossed I find myself down there again someday, but in the meantime, I'm enjoying what I'm doing here. It's always reassuring when there are people that think in the same ways you do, and these are my people," Garlotte said.
---