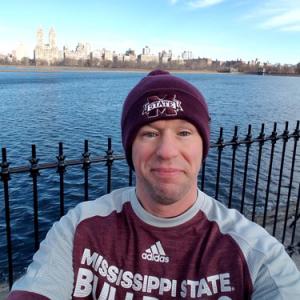 Not many people can say that they have beaten an Olympic runner or led the Boston Marathon, but Michael Johnson can. An avid runner, Johnson, 44, is currently pursuing his Doctorate in Philosophy in Civil Engineering online at Mississippi State University.
While completing his undergraduate degree at Rutgers University, Johnson competed on both the cross-country and track teams. Fortunate to run against some top runners Johnson says, "I once beat an Olympian. I never made it to the Olympics, but being able to say I once beat an Olympian makes me smile."
Johnson missed qualifying for the Boston Marathon by one second; however, a friend who qualifies as mobility impaired asked him to be his guide, which he has done twice now. "It was very rewarding to be there with him and guide him. Since mobility impaired runners get to start earlier than the elite runners, at some point we were running and we led the Boston Marathon. Not many can say that. Granted we had a half hour head start on the elite runners but we were leading," Johnson said.
Johnson, a licensed Professional Engineer with 20 years' experience, does most of his work for the water and wastewater industry. He is also a passionate volunteer with Water for People, a non-profit organization committed to bringing safe and sanitary water to developing countries. Johnson combines his career interest and enthusiasm for running to help raise money for the charity.
"We put on various fundraising events and recently I have been helping our charity partner with large marathons like the NYC marathon and the Marine Corps Marathon in Virginia. We offer guaranteed spots for runners into these races if they fundraise for our charity. In return for their fundraising, I help them train and fundraise to meet their goals. So I am like a coach in some ways to them. Since 2013 our committee and charity have partnered with the NYC marathon to offer spots and team members have raised over $167,000 to help developing countries," Johnson said.
"People can't survive without water, and as a runner who runs 26.2 miles, I couldn't finish a marathon without it. In America, we are fortunate that we can open our faucets or take a shower and the water is there. For most in developing countries, the women and children must dedicate hours of their day to obtaining water for their families. Most of the time, this means the women and children do not attend school. Water is a valuable resource and I am glad that the work I do and volunteer with helps those here and in developing countries," Johnson said.
Johnson had always wanted to pursue a doctoral degree but was nervous since it had been 12 years since his last class. Johnson credits Dr. John Ramirez-Avila as one of the main reasons he chose Mississippi State. "He and I spoke before I applied to the University and we discussed different research topic ideas and I thought he would bring out the best in me and we would work well together towards a research paper, so I applied."
"Dr. Ramirez really was the deal clincher. I thought if he made the time for me and I was not a student, I wondered what he must do for those that are in school. I was not disappointed. He responds to all my questions and comments, usually at all hours. Plus, he still makes time to talk with me on the phone as we are finalizing my dissertation topic," Johnson said.
For anyone considering pursuing an online engineering degree at Mississippi State, Johnson says, "The online lectures are the same ones as those for students on campus. You can watch the class live, or later since they are recorded. The flexibility to watch the classes whenever you have time allows you to watch almost an entire lecture during lunch break.
Johnson says, "The faculty and pride they have in the school is amazing. Whenever I spoke with someone, they always talked so highly of the school. The MSU online program is ranked as one of the best in the country. The professors make time to address any and all comments as if you were on campus. The professors are truly excellent teachers that make time for you and are some of the best in their respective fields. You will learn a lot that is practical to engineering."
"Everything works well; I don't honestly feel like I'm over a thousand miles away," Johnson said. "I frequently tell people 'Hail State from the Garden State'. Not many know what it means as I walk around town in New Jersey, but I feel like I'm part of the Hail State family when I say it."
---