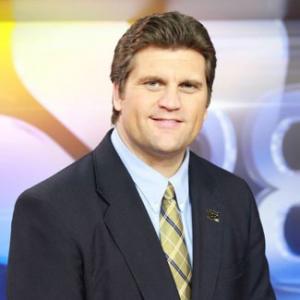 Miller Robson was used to large audiences and entertaining the public, but when an injury ended his professional wrestling career, he found a new avenue for entertainment and a passion for science. On-air, forecasting the weather, Robson realized the importance of having a solid background in atmospheric sciences and quickly enrolled in the online Broadcast and Operational Meteorology degree program at Mississippi State University.
Originally born in Missouri and raised in Columbus, Ga., Robson started wrestling in the late 1980s at the age of 15. At his peak, Robson competed against hall of fame wrestlers Jake "The Snake" Roberts and the Rock-N-Roll Express and many other big names.
After 15 years as a professional wrestler, Robson suffered from a hip and back injury from a match in Australia that ultimately ended his wrestling career. Robson transitioned to a successful on-air radio host for several years before he landed a job at the WLTZ news station in Columbus, Ga. It was not long before he was promoted to on-air morning weather anchor where he helped launch the morning news program.
Robson ashamedly admits that, at the time, he did not know the difference between a warning and a watch, and his strategy was to "rip and read" the weather forecasts from the National Weather Service, meaning he just read and repeated the report. He tried to produce his own forecast, but without having a strong background in science, it was very tough.
During a serve weather outbreak, Robson recalled the entire weather team working around the clock to make sure families knew what to do to stay safe. After that experience, Robson knew this was a career he loved and wanted. In order to build credibility with viewers and strengthen his skills in forecasting, he found the online Bachelor of Science in Geosciences with a concentration in Broadcast and Operational Meteorology and applied for admission.
"I wanted to be a good, solid meteorologist when I got done with the program. MSU provided me with the knowledge to reach that milestone. Every day I learned something that I could instantly use on-air," said Robson. Now, he is confident in building forecasts and enjoys taking what he learned as an MSU student and sharing it on-air with his viewers.
Entering his sixth year at WLTZ, Robson is the Morning Meteorologist. He believes his time as a professional wrestler shaped him into who he is today by drawing out his personality, requiring quick thinking, and building courage. His advice to others pursuing meteorology is to "Take it seriously. Try to learn something new about weather every day, and keep growing your knowledge."
Visit our website for more information about the online Bachelor of Science in Geosciences with a concentration in Broadcast and Operational Meteorology
---