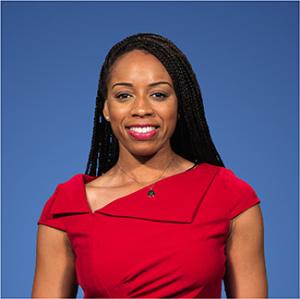 Enrolling in Mississippi State University Online has allowed Monique Robinson to strive for her academic and personal goals despite living in New Jersey. Robinson is an award-winning meteorologist and reporter who is currently enrolled in the Master of Science in Geosciences with a concentration in Applied Meteorology program. The path that led Robinson to Mississippi State was a pioneering one that took hard work, dedication, and passion.
In high school, Robinson had her own television show with a group of friends and family to act as her support system. She decided to pursue a broadcast journalism degree with hopes to become a reporter. "When I got to college, I wasn't sure if being an anchor reporter was the right fit for me. I was away from my support system, and I felt like I got swallowed up by the fish in a big sea. I did not have the same tenacity towards it. Then I took a weather course to fulfill my requirements to graduate," said Robinson.
From thermodynamics to the explanation of wind and lighting, Robinson fell in love with the course and decided that becoming a broadcast meteorologist was the path for her. "Meteorology is a lot of calculus and physics. It is very overwhelming; however, that was challenging me. I liked that challenge. I ended up being the first student in the University of Maryland's history to have a degree in both broadcast journalism and atmospheric and oceanic science," said Robinson. 
Not only was she a pioneer toward a career to meteorology at the university, but she also started the first meteorology club on campus. "I bought green fabric and set up a practice area in the kitchen of my apartment. I watched YouTube videos of meteorologists. Because I had a background in journalism, I knew how to edit everything together. One day I was showing my advisor and professor, Dr. Tim Canty, what I was working on, and he encouraged me to start the first meteorology club on campus," said Robinson. Her legacy lives on as the club continues to give back to the community and prepare future meteorologists with the skills needed to succeed in the industry. 
After graduating with two bachelor's degrees, Robinson accepted a job as a meteorologist and reporter in Wilmington, North Carolina. "I got to cover Hurricane Florence in 2018. In 2019, I started my master's program at Mississippi State and that is also when Hurricane Dorian came through the first week of my classes. When there is hurricane coverage we pretty much stay at the station, and I recall sleeping on an air mattress on the floor doing my first week's assignment hoping that this wouldn't be what my whole master's program would be like. My teacher was very open and understanding. Luckily, Hurricane Dorian was a quick-moving system that didn't sit as long as Hurricane Florence did, so I was able to get back to functioning like normal by the following week," said Robinson. 
Robinson and her station were awarded an Associated Press award for their 84 straight hours of coverage of Hurricane Florence. She was awarded a second Associated Press award for her reporting on the local aftermath from the hurricane. "I recognized that a lot of people were missing the stories of the children. I wanted that story to be told. A lot of times people focus on the adults and what they are struggling with and rebuilding, but people don't realize the impact that these storms have on children. I went to the middle school, elementary school, and medical provider in the county that was hardest hit by Florence in terms of flooding. I talked with the counselors about what the students struggled with after the hurricane. They expressed to me how a lot of children were feeling the weight of their parents' struggles. I was very honored to get that award for telling the story about the impacts of the storm on kids," said Robinson. 
Robinson also began teaching on the side at a local, all-girl, school for minorities and underprivileged children. "A lot of them were astounded by my work in the community as a meteorologist. Not because I was on TV, but because they had never seen a black woman in that position before. With that being said, I eventually want to go back to teaching children. I want to bring my experiences of working in the field back to a classroom and say, 'you can do this!' while inspiring them and letting them know that anything is possible," said Robinson. 
With these ambitions in mind, Robinson decided that if she wanted to make this difference in children's lives then she needed to get her master's degree. "I needed to figure out a way to go back to school, but also keep my full-time job. I heard so many people talk about Mississippi State. One big pro for me was that the program was entirely online. This program has allowed me to go be a good student and a good employee at the same time," said Robinson. 
Robinson encourages others to pursue their degree online at MSU because of the opportunities to learn, grow and network while maintaining other responsibilities. "Let your passions lead you. There will be tough times, but if you are passionate about something, go after it and don't let the tough times distract you from your passions," said Robinson. 
One of Robinson's other passions is to encourage others through her social media platforms. She continues to make an impact on others by posting encouraging messages and videos to her followers. "I came up with the idea recognizing that God has made a way for me and a lot of times people see the positive things that are happening in my life through social media and they do not always see the bad side. I want people to see that I am as human as you are. I have been through low points and high points, and I want to show people how good God is in both the high and low points," said Robinson. 
"I would love to continue with meteorology. I also want to venture into different ways to deliver the weather other than traditional news. I would love to make the explanation of the science behind weather fun on the air. One day, I would also love to become a professor. My dream is to say that I am 26 with my master's degree while looking out at blue ocean water," said Robinson. 
Robinson's dreams are scheduled to come true this summer when she graduates from Mississippi State with her master's degree. She is letting her passions lead her to make an impact on others through the pursuit of her master's degree. To learn more about the Master of Science in Geosciences with a concentration in Applied Meteorology through MSU Online visit https://online.msstate.edu/geosciences/amp/.
---