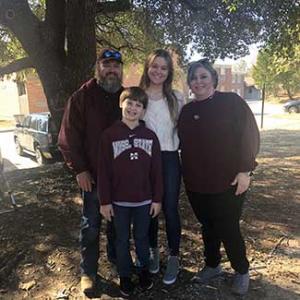 Husband, father, Bulldog fan, and Delta Research and Extension Center employee are a few of the many roles Monroe Walker has. Now, Walker has added Mississippi State University alumnus to his list of titles. Becoming an MSU graduate took him out of his comfort zone because he completed his degree online.
"At first, I didn't know where to start. Someone had to help me write an email to my adviser," Walker said. He enrolled in the Bachelor of Science in Interdisciplinary Studies program through MSU Online and worked with adviser Kali Dunlap.
"It was intimidating at first because I hadn't studied other than helping my kids with their homework. I kept putting it off because I was largely computer illiterate," Walker said. Instructors, colleagues, and MSU Online staff helped Walker adapt to the technology and become comfortable with the online format.
"Students like Monroe inspire me daily, and my advice to those even considering taking the next step to earning a degree is to not let fear stand in the way of achieving your dreams. Our MSU Online family strives every day to enrich the experience for all of our students, and we are here to help walk you through every step of the process and to address each and every fear and concern you may have just as we did with Monroe," Dunlap said.
Walker has worked at the Delta Research and Extension Center in Stoneville for 20 years, primarily in catfish disease and production research under the guidance of Matt Griffin, Terry Greenway and David Wise. He credits their encouragement as one of the reasons he completed his degree.
"I was a student at Mississippi State in the early 1990s, but there was a 24-year gap between my initial enrollment and earning my degree," Walker said. A co-worker was working on an online degree and encouraged Walker to trust the MSU faculty and staff to help him to do what he needed.
"I didn't know my way around a computer when I started, but the business courses really helped me. If I can do it, anyone can do it," Walker said.  "Finally completing my degree was way more satisfying than I ever expected."
Despite having multiple responsibilities outside of class, Walker pushed through the demands on his time. "When you read classmates' introductions on discussion boards and you realize that others are facing similar circumstances, it helps to know you're not alone," Walker said. Even living two hours from the Starkville campus was not an issue since classes were completely online.
"If you set your mind to it, you can get it done, but time management is critical.  After coming home from work you have to set a schedule to get school assignments done. Don't be afraid of it. The MSU Online advisers Kali, Evan and Glenna, were super helpful," Walker said. 
After receiving some initial help to get started, Walker paid it forward and helped others new to online coursework. "In a class where we had to introduce ourselves, I was able to help a classmate in a marketing class who had been out of school for 10 years," Walker said. 
If you find yourself in Left Field Lounge or other Mississippi State athletic events, be on the lookout for one of the newest members of the Bulldog Alumni Family, Monroe Walker.
---