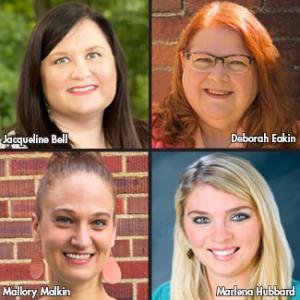 In the spring semester of 2019, Mississippi State University's Department of Psychology brought the Bachelor of Science in Psychology online. Since the start of the online program, enrollment has grown incredibly. "We are meeting so many different needs by having the program online. Every student has a reason why it is the best option for them to take online classes. We started with four students in the online program and now we have well over 100," said Deborah Eakin, associate professor of psychology and online program advisor.
Candice Tetlow Cox of Natchez, Miss., became the very first graduate of the online psychology program in August and benefitted from the MSU psychology faculty who worked diligently to make the online bachelor's degree a reality.
"MSU's general mission is really to serve people in Mississippi and benefit them. That is our role as a land grant institution. Mississippi State has put many initiatives in place to further reach out to people where they are. The online psychology major fits right into that mission by providing a way for that to happen for people who can't take advantage of those opportunities on campus. So, we really do fit very well into that mission of the land grant university to try to provide opportunity for everybody in Mississippi, not just people who come on the campus," said Eakin.
Offering the curriculum completely online was not without challenges.  "We had some roadblocks. We had to get our introductory psychological statistics lab and experimental psychology lab classes online. We just decided that we could do this, and we had so many classes already being offered online that once we got those two classes it worked out. We just took off and went for it," said Eakin.
For some students, there are unexpected benefits to the online program. "Something that is so good about the online program is that it really teaches students time management, prioritizing, and planning. They are getting educated, but they are also learning some of the real-world aspects of how to juggle multiple deadlines," said Jacqueline Bell, psychology lecturer. Bell encourages students to utilize the resources available to them such as technology assistance, online tutoring, career counseling, and more. 
"With face-to-face classes, some students might be able to hide in the background. I find in online classes when you are requiring that they must respond to a classmate, students must post a reply that requires an even more rigorous engagement in some ways. Then they can take the time to critically think about the prompt. This offers a lot of interesting conversation among the students," said Mallory Malkin, psychology lecturer. Through the online labs and discussion boards, students and faculty connect and get to know one another.
"In Mississippi we have a lot of individuals in rural areas who may not have the ability to travel far. They may not have reliable transportation. The online program gives them the benefit of having that same quality of education online," said Marlena Hubbard, psychology lecturer. The faculty truly care about their students and giving them the best quality of education regardless of the format of the class.
"All of the instructors have a very good relationship with the Center for Distance Education. That goes to show that not even a year into the degree, there are over 100 students enrolled. That comes from the dedication of the department, Dr. Eakin, and all the instructors building that reputation," said Evan Hawkins, MSU Online program coordinator. 
With an online bachelor's degree in psychology, the potential career paths are nearly endless. Are you interested in a Bachelor of Science in Psychology from Mississippi State University? Click here for more information. 
Are you ready to be a Bulldog? Click here to apply!
---