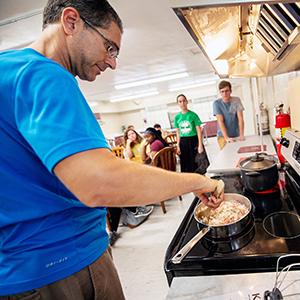 Dr. Salvador Bartera is Mississippi State University's Department of Classical and Modern Languages and Literatures Associate Professor of Classics and Graduate Coordinator. He teaches undergraduate and graduate courses both face to face and online, researches Latin Literature and the Classical Tradition, and coordinates the Master of Arts in Foreign Languages degree. 
Bartera grew up in Italy, which is where his passion for classics was fostered. "I attended a unique high school that is particularly devoted to classics. I fell in love with it there. In Italy, classics, especially Roman antiquities, is considered part of our own heritage and culture. I always find it fascinating to study ancient languages," said Bartera. 
He moved to the United States 20 years ago to pursue a graduate education. With a passion for public education, Bartera attended the University of Virginia for his PhD in Classics, taught at the University of Tennessee in Knoxville for several years, and then moved to Mississippi State University in 2014. "I grew up in a country where public education is very important. That is one of the reasons why I chose to attend UVA instead of an Ivy League. UVA was the first public university in America. When I got the job at Mississippi State, I was happy to move to another state university. I really believe in the role of public education, and I think MSU embodies it very well," said Bartera.
The Master of Foreign Languages at MSU has three major concentrations- French, Spanish, and German, but one can also pursue Latin. "As the graduate coordinator, I coordinate the program's policies, process applications, advertise the program, coordinate exams, and make sure that students are taking the right courses to stay on track to graduation," said Bartera. 
The role of graduate coordinator is very fulfilling to Bartera because of the impact that he can have on international students, for he, too, first came to the US as an international student. "Most of our students are international and come from all over the world. We have representation of almost every continent in our department between our faculty and our students. I understand the cultural shock of coming into another country, and I like to help students through the process of adaptation," said Bartera. 
Bartera loves watching his students grow and learn more about languages through his courses. "The most rewarding part of my job as a teacher is seeing a student who started with me with no previous knowledge of the language, and, within a couple of years, being able to read literature in the original Greek or Latin. To see my students growing and reaching their full potential is truly amazing," said Bartera. 
In the Fall of 2020, the Department of Classical and Modern Languages and Literatures brought the Master of Foreign Languages degree online. "Flexibility is the main advantage of having our program online. The fact that students can take classes from anywhere is such a big benefit. The online Master of Arts in Foreign Languages allows its students the maximum flexibility to fit one's needs. Whether you want to complete your degree in two years or take one class at a time, whether you want to improve your spoken language proficiency or read literary masterpieces in their original language, our online MA will provide you with an ideal opportunity. If someone is interested in enrolling in our program, I would tell her/him to get in touch with me as soon as possible. We are also open to designing classes that meet the specific need of any particular student," said Bartera. 
Outside of his passion for languages, he also loves Italian food and cycling. "People know me as being a cyclist and a foodie outside of academia. For someone who spends most of his days in a library or office, cycling is a way for me to enjoy being outside. I also enjoy food very much. As an Italian, I grew up with a culture that centers around food. I love to cook. I love to eat. And I love the outdoors," said Bartera. 
Bartera's enthusiasm for languages is evident. His passion has led him to Starkville, Mississippi, where he continues to make an impact on students from all over the world, both in-person and online. Mississippi State University is proud to have great faculty like Bartera. If you are interested in learning more about the Master of Arts in Foreign Languages through MSU Online visit our Classic & Modern Languages and Literatures homepage for more information.
---