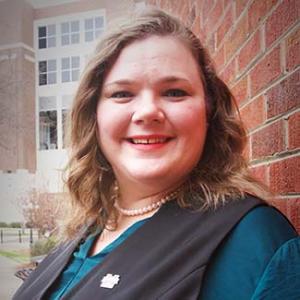 As an earth-science teacher at Loudoun Valley High School in Purcellville, Virginia, Taryn Langmead decided to pursue her Master of Science in Geosciences through Mississippi State University Online to expand her knowledge with goals of becoming a better teacher. 
"I wanted to be able to do better for my students. I wanted to make sure I had a good understanding because they ask really great questions. I wanted to give them the insight that I wish I had as a high schooler," said Langmead. Not only does she teach high school earth science, but because of her master's degree, she also teaches three levels of dual enrollment courses through a partnership with a local university.
 Langmead has made an incredible impact as a teacher, especially with students in her special education class. "This year I have some students who are nonverbal. A lot of things that I learned in classes, like the in-depth work, gave me such a better understanding to be able to break it down for my students--so they can access the world around them," said Langmead. With assistive and augmentative communication devices and the use of sign language, Langmead can check for understanding. 
Langmead personally understands challenges to educational pursuits. "I had a cancer scare. The semester I started grad school, that October, I ended up getting a nodule on my face that was two centimeters. It was causing terrible headaches, pain down my face and neck, and a third of my face was numb. Doctors thought it was parotid cancer," Langmead said. Parotid cancer is a cancer of the salivary gland--but Langmead did not let this hold her back.
"I'm going to stick through this because I don't like to give up. I don't like to stop in the middle of something I've started. The day before I was supposed to meet with an oncologist to schedule surgery, I got the final biopsy results that it wasn't cancer. So, I avoided a big long surgery and lots of recovery time, and I managed to stay caught up in classes. I only fell behind about a week," said Langmead. 
Not only did Langmead have support from her family--her mother was her loudest cheerleader, but also her professor, Christa Haney, an assistant clinical professor in meteorology and climatology. Haney told Langmead, "You have to take care of your health. Let me know what we can do to support you." 
"I have always seen challenges and just said, 'Let's do it!'" said Langmead. Growing up, her father was in the United States Navy. Because of this, her family moved often, and this made her great at adapting to new situations and challenges. Despite her health scare, Langmead completed her degree within two years. "If I want to do something. I stick to it. It will get done," said Langmead. 
With her coursework complete, Langmead made the trip from Purcellville, Virginia, to Starkville, Mississippi in December of 2019, to walk across the graduation stage. She enjoyed meeting and connecting with her professors and peers. "I really like the tradition of walking across the stage. It feels final. It felt finished for me- like I finally finished this journey," said Langmead.  
While Langmead's journey to graduation was not an easy one, her resiliency, determination, and hard work propelled her to success. 
Visit our Teachers in Geosciences Program if you are interested in learning more about Taryn's degree!
---