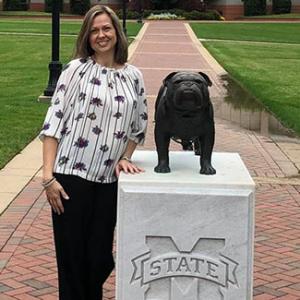 Tonawanda Keeton, known to most as "Tona", always dreamed of being a Mississippi State University graduate. Although it was something she put off as other demands of life took priority, it was a dream realized when Keeton became one of the newest Mississippi State alumni in December 2019.
After high school, Keeton, of Sumrall, Miss., completed her associate degree in applied science at a local community college. Keeton then started a family and made raising her young children her top priority. Keeton and her husband, Christopher, have three children.  "I always knew that I wanted to go back to school one day when the time was right," Keeton said.
As her children got older, Keeton started to weigh her options about finishing her degree and found the Bachelor of Science in Interdisciplinary Studies (BSIS) online program at MSU. Later while attending her daughter's Phi Theta Kappa initiation, she realized that she still qualified for a scholarship through her own membership from years ago. "I applied, got accepted, and began my journey in January 2018," Keeton said.
"I chose to pursue the emphasis areas of general business, communication, and health promotion. I love communication and public relations, and I took classes that would develop those skills. I also feel that health promotion is overlooked in many companies and would love to help companies develop wellness programs, Keeton said. "As far as the future is concerned, there is a world of opportunity; and I am not closing any doors."
Keeton admits that juggling a full-time job, going to school online, and managing her family responsibilities was not easy. "It has been a challenge. I came home from work tired many days and had to push on. I gave up my evenings, nights, and weekends to meet assignment deadlines," Keeton said.
While completing her degree did not come without struggles, Keeton encountered some exciting and reassuring moments along the way that made her journey worthwhile. "One weekend we drove to Starkville for my Phi Kappa Phi induction. It was encouraging for me to be recognized academically and to tour the beautiful campus," she said. Keeton's youngest son was also inspired by the campus experience and talks about coming to MSU after his high school graduation.
"I hope that I have shown my children to never give up on your goals. Thomas Edison once said, 'Genius is one percent inspiration and 99 percent perspiration.' We never stop learning. I continue to learn every day, and I want to inspire others to do the same," Keeton said.
In her last semester at MSU, Keeton was chosen as a recipient of the Distance Makes A Difference scholarship, awarded through MSU Online's annual crowdfunding efforts. "The financial help was appreciated and was a tremendous help to me," she said.
Keeton is very grateful she found the BSIS program at MSU. "The online program gives those like me and other non-traditional students the opportunity to fulfill the dream of becoming a Mississippi State graduate."
While Keeton found the BSIS program to be challenging, requiring dedication and self-motivation, she would advise others to stay focused on their goal. "I often quoted Philippians 4:13, 'I can do all things through Christ which strengtheneth me.'  I thank God for the strength, and I thank my family for the sacrifices that they have made for me to fulfill this dream," Keeton said.
After graduating with honors at the age of 44, Keeton says she plans to pursue her master's degree and perhaps a doctoral degree in the future. For now, Keeton said, "I just want to make up for lost time with my family and spoil my grandbabies!"
---