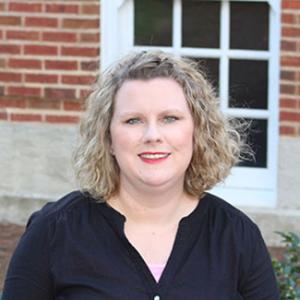 Tracy Craven grew up in Brandon, Mississippi, with dreams of becoming a meteorologist. "I always enjoyed the weather. Even when I was a little girl, my parents always said that I would walk through the room, and if the weather was on TV, I would always stop to watch. I loved it," said Craven.
After high school, Craven decided to join the Bulldog Family as a freshman to pursue a Bachelor of Science in Geosciences with a concentration in Operational Meteorology. "I always wanted to be a meteorologist and that is really what drew me to Mississippi State, and I also got accepted into the Famous Maroon Band. I love music. I played an instrument in high school, and in college I was on the flag line," said Craven. 
Like many students, her undergraduate career was filled with great memories and evolving career goals. "Weather has always been a hobby of mine, but as I got close to graduation, I realized that it was not something that I really saw as a career," said Craven. 
As an undergraduate student, Craven worked in the Mitchell Memorial Library, and she had a set of friends who were studying instructional technology.  "I finished my undergrad degree and decided to pursue my master's in instructional technology. I really enjoyed the courses and knew that would be a positive career for me to pursue. I became a graduate assistant with the Geosciences department and worked with the Instructional Designer in the Geosciences Distance Learning program. After I graduated, they hired me full time to assist faculty with course design and development," said Craven.  
Craven has been in distance education for her entire professional career, and for the past eight years, she has been the Technology Manager with the Center for Distance Education. Through her time in the industry, she has seen distance education evolve. "I remember we used to mail VHS tapes to students. We went from that to mailing CDs and now we can record, or stream lectures live. Technology advances over the years have allowed us more efficient and effective ways to teach students in an online format. There are more tools available, and people are much more open to distance learning than they have been in the past," said Craven. 
Not only did her friends from the library lead her to her career in instructional technology, but they also introduced her to her husband. "I worked with his best friend at the library. We ended up all having a class together, so that's how we met. He went to work in Jackson while I finished my master's degree. Then, we got married in 2003. We have a son, Jacob, who will turn four in March. I have been in Starkville this whole time, so Starkville is really home to me," said Craven.
While Starkville is home to Craven, she also enjoys planning trips and traveling the world including Alaska, the Caribbean, California, New York City, and Europe. "I am a big planner. I love to plan trips and travel. We have been very fortunate to be able to travel a lot. After the pandemic ends, I am looking forward to traveling again.  I am hoping one day we can take Jacob on an Alaskan cruise because it is life changing. We went to see the Mendenhall Glacier, and it was one of those moments where my breath was really taken away. Our trip to Alaska was probably the most memorable trip we have ever been on," said Craven. 
Craven and her family also love traveling to Orlando, Florida to go to Walt Disney World. "I am a really big Disney fan. It is a thing that a lot of people can really connect with. We usually take trips down to Disney World at least once a year but sometimes twice a year. I love it because you really do just feel like you are in a whole new world. One of my best friends is a Disney travel agent, so I like to tag along with her for girls' trips. My whole family is going in May, and I am really looking forward to it," said Craven.  
As the Technology Manager, Craven leads the CDE Technology Unit.  "Getting to work with my team is my favorite part of my job. They are great, hardworking people who are fun to be around. One thing I have really admired about my team is that they are always willing to help each other out in any way, even if they don't understand it. I have a great group, and I am very fortunate to have them," said Craven.
From providing Bulldogs with distance education through VHS tapes to now 100% online, we celebrate the growth and evolution of MSU Online over the past 30 years. The Center for Distance Education staff is available to provide best practices for online coursework and facilitate training with educational technology. To learn more about what it means to teach online and improve your online courses, visit MSU Online's Community of Practice Hub or MSU Online's teaching resources.
CDE is grateful for the innovation and dedication of the Technology Unit throughout MSU's response to COVID-19. Read more about their work during the pandemic
---