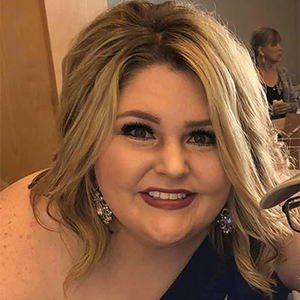 Victoria Russell is a licensed cosmetologist that is going back to school to get her master's in elementary education with a concentration in middle school.
"I went to cosmetology school after getting my associates degree," Russell said. "I thought – if I pursued cosmetology a few years ago like I wanted to as an 18-year-old, I would be where I wanted to be, so that's what I did."
Russell reconsidered her career choice when the industry shut down during the pandemic. Without the competitiveness and drive warranted in cosmetology practice due to the pandemic, Russell decided to switch career paths and further her education with a degree from Mississippi State Online.
"I decided to go a different route, and education was something that I always valued, so I started looking into different programs," Russell said. "I didn't even know Mississippi State was an option, but when I found the online programs, they met every single expectation I had."
Online education opened opportunities for Russell, starting with a position as a teacher's assistant at a primary school. Because Russell was taking the classes necessary to apply for the position, she was able to obtain the role.
"I was taking the required classes for the job through Mississippi State Online, I was able to accept the position," Russell said. "I started my job in education as I was beginning my online degree program."
Through her online classes, Russell was able to apply what she was learning through her experience. The knowledge she received from classes helped her see the needs of students and directly address any issues or concerns.
"I'm aware of the needs of the kids in my classroom," Russell said. "I now have the correct terminology to avoid putting them in uncomfortable situations, and I can make sure I am doing what is appropriate for them."
While Russell still finds time to practice schooling outside of online education and teaching, she still encourages those thinking about changing their job path to pursue it, even if it seems impossible.
"I had to relearn everything, but it was worth it," Russell said. "Go for it. You can always go back to what you used to do. Ensure that you have a better life and be the best you can be – for you."
---