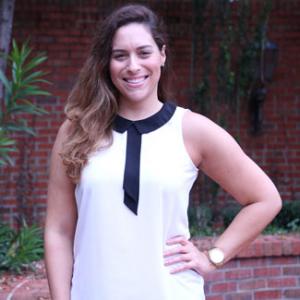 A meteorologist was not quite what Violeta Yas had in mind when she started her educational journey, but after the journalism media studies graduate landed a job with Telemundo, she found a new passion and returned to college to pursue it.
Born in Argentina, Violeta and her family moved to New York when she was 5 years old. She grew up in New Jersey and attended Rutgers University. Active in many athletics, Violeta dreamed of a job in the sports industry, so she chose to major in media studies. She freelanced sports writing for SPM Sports during college, covering men's and women's basketball and football. She remembers covering a women's basketball game where she noticed she was writing next to Buster Olney, a columnist for ESPN. "I was star struck. I couldn't believe I was writing right next to him," she said.
After Violeta graduated with her bachelor's degree in 2007, the job search began. However, it was not a success due to the fallen economy. After two years of persistent job searching, she gained a position with AccuWeather as a weather anchor. It wasn't the sports journalist position she wanted, but she would gain experience on air. She received extensive training in weather, science and terminology needed to put her in front of the TV. After several months, she began reporting the weather. She had been forecasting the weather for three and a half years when Telemundo discovered her. Telemundo is a division of NBCUniversal Hispanic Enterprises and Content.  Telemundo recruited her for their weather team in Philadelphia contingent she earn her credentials to become a meteorologist.  Her news director at Telemundo suggested the Online Broadcast or Operational Meteorology Certificate Program from Mississippi State University to gain her credentials.
Violeta researched the program and, without hesitation, applied. The three year certification program was developed with the aid of the National Weather Association. It required the completion of 17 courses of weather-related sciences and participation in the three day on-campus summer workshop.
Fast forward to Summer 2017, Violeta completed the certification. She said, "The flexibility of the program was a nice bonus because it provided me opportunity work while completing it. The information was relevant and very much needed for my profession." Expanding on the flexibility of the program, she flashed back to a time she was in mid-air flying across the country. "I actually opened my laptop to watch a lecture happening in Mississippi while flying above Missouri, en route to Los Angeles."  Because of her persistence, Violeta is now a broadcast meteorologist. One day, she hopes to marry her two passions: sports and weather, to  provide weather coverage for sporting events.
---