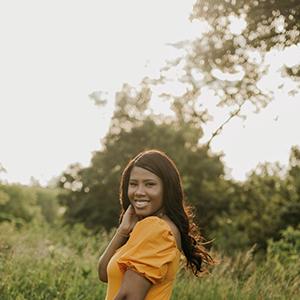 Xiomaria Grace of Minneapolis, Minnesota, is one of three 2020 Distance Makes a Difference scholarship winners. The scholarships are funded by generous donors who realize the many obstacles online students overcome to earn degrees. Grace can pursue her education at Mississippi State University because of online education. 
"I attended another university for a semester then transferred to Meridian Community College. My grandparents live in Meridian. I didn't really know what my options were after I graduated from a very affordable community college. I took some time off to think about it, and then I found Mississippi State," said Grace.
Grace is a member of Phi Theta Kappa, a prestigious honor society for community college students. At one of their meetings, a representative from MSU spoke about different options for continuing education. "I distinctly remember feeling nervous about joining this group and attending this particular meeting. However, now that I think about it, it was a pivotal moment in my education. The representative briefly discussed distance learning as well as MSU Starkville and the MSU Meridian campus. I felt like MSU was the right choice for me because there were so many options. I felt so hopeful knowing there was an option for me to receive a quality education from an accredited university and program all online. For me, another bonus was that I could get in-state tuition as an out-of-state student," said Grace.
After being accepted into the Bulldog Family, Grace chose elementary education as her major. "Both of my parents were in education. I have been surrounded by education my whole life, and this path really seemed natural for me. I did not always want to be a teacher, but after considering my passions, I just felt like it would be a good fit. I enjoy helping people, working with children, and the back-to-school season," said Grace.
Not only did Grace have parents who were passionate about education, but she also had some great teachers. She aspires to make an impact on students the way that her teachers made a lasting impact on her. "I have been fortunate to have a lot of really great and influential teachers and professors. As a student, I looked up to my teachers. They helped shape me and my educational philosophy, and I am fortunate that they believed in me," said Grace.
Grace has goals to be a lifelong learner and teach 2nd-5th grade in the future. "I think students between these grade levels have a good understanding of school as far as expectations go. I think these grades are optimal times to promote a passion for education and mold students into progressive learners. I think during these grade levels students really learn foundational skills that will follow them through their entire educational career. I'd love to play a role in shaping students' lives and preparing them for their future in education, in any capacity that I can," said Grace. 
In 2014, Grace's life took a turn when her father died unexpectedly. Grace and her family moved from Wisconsin to Minnesota, and distance education has made her goal of becoming a teacher possible. "Distance education has helped me to dive deeper into what I am learning. It is different than face-to-face classes, but it is so rewarding because I am working so hard. It makes me more aware of the topics I'm learning and even more interested in the subjects I am learning. It has also taught me to be more organized, prepared, and overall a better student," said Grace.
She encourages students who are considering online education to give it a try. "It might be challenging, but it is a good challenge. With all the worries you might have going into an online program, it is so important to know that the professors are so helpful, nice, and supportive. I would recommend Mississippi State University Online to anybody! I am happy, and I have built some great relationships even through a computer," said Grace.
Despite the distance from Mississippi to Minnesota, Grace was awarded one of three Distance Makes a Difference Scholarships for the fall of 2020. "I was in shock when I found out that I was awarded the scholarship. I have applied before and did not receive it, but that just shows that it doesn't ever hurt to try again! This semester I had a lot of questions about how I was going to pay for school. This scholarship has taken a pressure off me. Now I can focus more on succeeding in my academics--which is what I am here for," said Grace. She is expected to graduate in May 2021. 
Distance education has made a true difference in Xiomaria Grace's life, and it could make a difference in your life, too! MSU Online offers nearly 60 online degrees and certificates.
---