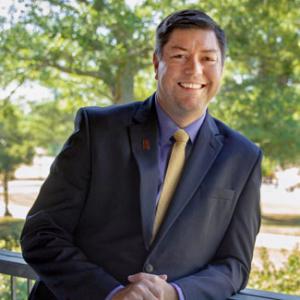 With more than 10 years of development and productivity experience, Darrell Easley expanded his skills to include leadership through the online Community College Leadership doctoral program at Mississippi State University.
Easley is a husband to Jennifer and a father to four children, Jacob, Justin, Josh, and Jenna. Finding a doctoral program that allowed balance between his family and work was important.
As the Learning and Development Manager for the Human Resources Management department at MSU, Easley focuses on the professional development of MSU faculty and staff. One of his favorite professional development programs offered to staff is the Leadership Excellence for Accomplished Professionals or LEAP program. "It brings people from all over campus and they learn from the program and each other," said Easley. The goal of the LEAP program is to take high performing employees and get them to the next level of leadership.
Prior to enrolling in the Ph.D. program, Easley had not taken college courses in nine years, so his first online course was a slight challenge; however, the convenience of online courses sparked Easley's interest to expand professional development opportunities to employees through online offerings.
When Easley decided to enroll in the online Community College Leadership doctoral program, he was thinking about his future. "I'm nearing retirement, and I'm starting to think about what I'm going to do once I do retire. The Ph.D. will open doors to expand on my leadership skills, and offer more opportunities for a second career" Easley said.
The flexibility of the Ph.D. in Community College Leadership allowed Easley to work on his assignments when it was convenient for him. Not only was the delivery of the coursework a bragging point for Easley, but he sang praises of the faculty's in-depth knowledge and first-hand experience of the industry. "All the faculty were great practitioners within the community college sector, teaching through experience. That was a valuable component to the program," said Easley.
Easley appreciated the diverse cohort of the program, and enjoyed the encouragement and motivation he and his peers shared. Some of the courses required on-campus attendance, but because of the blended delivery format of the program, Easley was able to develop strong relationships with his peers all across Mississippi, Alabama, Tennessee, and Louisiana within the Community College sector.
For more information about the Ph.D. in Community College Leadership, visit online.msstate.edu/phcl
---